HB  5636 – which excludes motorized wheelchairs from the definition of 'motor vehicle' –  is now the law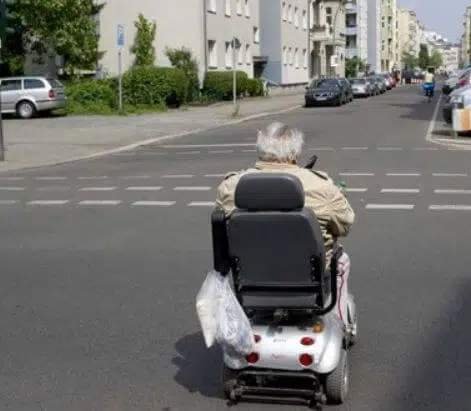 Thanks to Speaker of the House Kevin Cotter (R-Isabella County), auto accident victims who are struck by a car or truck while in wheelchairs – such as Macomb County's George Veness and his ordeals with State Farm that I've been writing about – will now have the No Fault insurance protection they need and deserve.
On January 10, 2015, Gov. Rick Snyder signed into law Speaker Cotter's House Bill 5636, which prevents these unscrupulous auto insurance companies – including State Farm and Farm Bureau – from denying No Fault PIP benefits and pain and suffering compensation to people involved in automobile accidents while on wheelchairs and scooters.
In the Veness case, State Farm and Farm Bureau were denying No Fault benefits to Mr. Veness, claiming he should have had No Fault auto insurance coverage on his  motorized wheelchair (even though such insurance does not even exist). And not only would this have caused Mr. Veness to be unable to recover No Fault benefits, but if he truly were "uninsured" as an owner-operator of a wheelchair, then under Michigan law he would also have been barred from suing the driver who hit him for any of his injuries or pain and suffering.
Now, not another person will have to go through what George Veness has had to endure. Now known as Public Act 492 of 2014, the new law provides this valuable No Fault protection by excluding "motorized wheelchairs" from the No Fault Law's definition of "motor vehicle."
Although the actual Public Act document is not available at the time of this writing, details about the Public Act, HB 5636 and the bill's progression through the Legislature can be found here on the Michigan Legislature website.
Since its introduction, I've been a vocal supporter of Speaker Cotter's  HB 5636 and the No Fault protections it would provide. For more information, take a look at my blog post, "No Fault protection for wheelchair users recommended for passage by Senate."
HB 5636's passage into law is a big deal. It's a victory for many of the most vulnerable members of our society who, because of advanced age or  disabilities, must rely on motorized wheelchairs for their mobility and independence. It also stands as a shining example of how lawmakers from both sides of the aisle can come together to fix something that's obviously broken – and even strengthen the No Fault Law's protections for Michigan's most vulnerable citizens.
Origins of what I call the 'George Veness bill'
My interest in Speaker Cotter's HB 5636 (now Public Act 492 of 2014) stems from the outrageous Macomb County  car accident that injured George Veness.  Paralyzed from the waist down in a work accident years earlier, Mr. Veness was using his motorized wheelchair to legally cross the street when he was struck and injured by an SUV driven by an off-duty Macomb County police officer.
State Farm (Mr. Veness's insurer for his wheelchair-accessible van) and Farm Bureau (insurer for the at-fault driver who drove into Mr. Veness) denied No Fault benefits and injury compensation to Mr. Veness on the absurd basis that he did not have No Fault auto insurance on his motorized wheelchair.
The auto insurers (through their lawyers in court filings) took the position that the motorized wheelchair was a "motor vehicle" for purposes of the No Fault Law and, thus, should've been insured. It is a rather clever legal argument, if also ethically-challenged.
The logical extension of this rather technical legal argument is that because the wheelchair was not insured with No Fault,  as State Farm and Farm Bureau insisted that it should be, Mr. Veness should be treated as an "uninsured" owner/operator of a motor vehicle. This also means that under Michigan's auto law, he would then be disqualified from receiving No Fault PIP benefits and/or any type of injury and pain and suffering compensation for the personal injuries he suffered when the SUV crashed into him as he was crossing the street in his motorized wheelchair.
For more information, take a look at my blog post, "State Farm's treatment of man in wheelchair so outrageously 'unbelievable' it couldn't be made up."
What this all means is that now after the passage of Speaker Cotter's HB 5636, insurance companies can no longer do this to people in wheelchairs or scooters or who are dependent on like motorized forms of transportation.  This will serve as a permanent roadblock to such shameful legal arguments not only in Mr. Veness's case, but also in all future cases involving auto accident victims in motorized wheelchairs who are struck by cars.
No Fault protection for motorized-wheelchair users
The enrolled version of Speaker Cotter's House Bill 5636, which is now known as Public Act 492 of 2014, amends as follows the No Fault Law's definition of "motor vehicle" to exclude motorized wheelchairs:
"Motor vehicle does not include … a power-driven mobility device."

*    *    *

"'Power-driven mobility device' means a wheelchair or other mobility device powered by a battery, fuel, or other engine and designed to be used by an individual with a mobility disability for the purpose of locomotion."
Significantly, the new law (as reflected in the enrolled version of HB 5636) provides the changes to the No Fault law which exclude "motorized wheelchairs" from the definition of "motor vehicle" "shall be applied retroactively."