Michigan Auto Law attorneys provide child age and height charts for seat requirements
Yesterday, I wrote about the current car seat law. I also discussed the questions we received from many concerned parents after I wrote about the proposed changes to Michigan's car seat laws under Senate Bill 1135, which did not become law in Michigan. You can read my earlier blog and the questions I received here: "Senate votes to change Michigan's car seat law."
Today, I want to go into more depth. Our attorneys have created a chart that explains current child age and height requirements for car seats, and child car seat safety requirements. And below this, we have police guidance and suggestions from the Michigan Office of Highway Safety Planning on best practices for parents and anyone entrusted with the responsibility of transporting children in cars.
One final word because this is such an important topic: As an attorney, there's nothing more terrible than a case involving the death of a child. We sincerely thank you for taking the time to read and understand this, because the stakes are so high when it comes to transporting children safely in cars.
Michigan's existing car seat law
Here's a chart that lays out the rules for child car seats under Michigan's existing law:
The Michigan State Police on Michigan's car seat law
Here's what the Michigan State Police has to say about what "Michigan's child passenger safety law requires:"
"Children younger than age 4 to ride in a car seat in the rear seat if the vehicle has a rear seat. If all available rear seats are occupied by children under 4, then a child under 4 may ride in a car seat in the front seat. A child in a rear-facing car seat may only ride in the front seat if the airbag is turned off."
"Children to be properly buckled in a car seat or booster seat until they are 8 years old or 4-feet-9-inches tall. Children must ride in a seat until they reach the age requirement or the height requirement, whichever comes first."
Michigan's Office Of Highway Safety Planning
Below are suggestions from Michigan's Office of Highway Safety Planning as to when rear- and forward-facing car seats, booster seats and seats belts should be used with child passengers: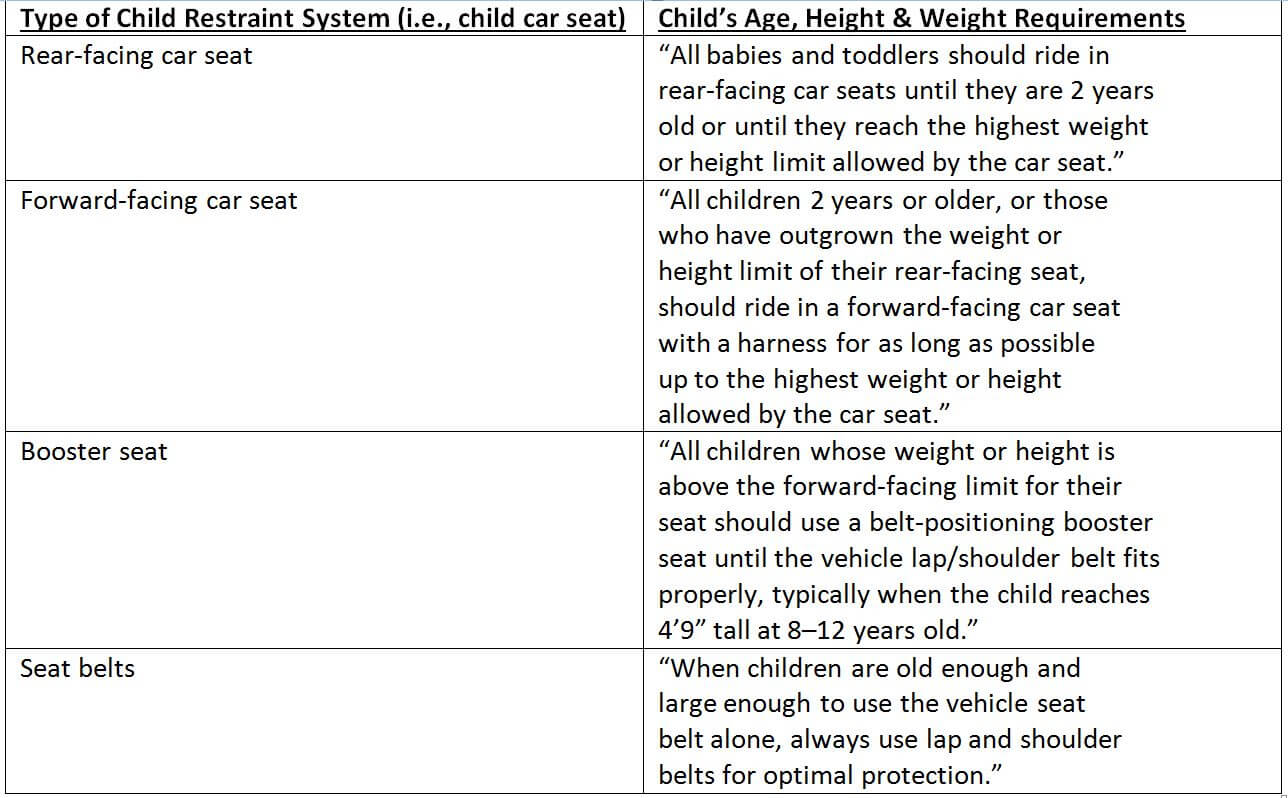 (Source: "Car Seat Basics," Michigan Office of Highway Safety Planning, flyer (a link to the PDF of the flyer can be found on the Michigan State Police's "Child Passenger Safety Law" web page at the link above).