Brandon shares teen driving safety tips and personal case stories with students at Walled Lake Northern High School
Teens are taught that drinking and driving is dangerous and illegal. But it's another thing for them to hear about real-life consequences from an attorney who helps people hurt in car accidents involving drunk driving – and sees the devastation firsthand. That's why our attorneys make it a point to speak to students around the state about drunk driving and distracted driving, especially during times when crashes are more prevalent, like prom and the holidays.
Most recently, Brandon Hewitt spoke to students at Walled Lake Northern High School. He was joined by the school district's liaison officer, Oakland County Sheriff Deputy Lee Van Camp.
Brandon and Officer Van Camp spoke about the dangers of drunk driving for teens, gave an example of a tragic accident where a teenager was charged with serious felonies after killing a mother of two, and discussed how even just a couple drinks impacts your judgment and ability to drive.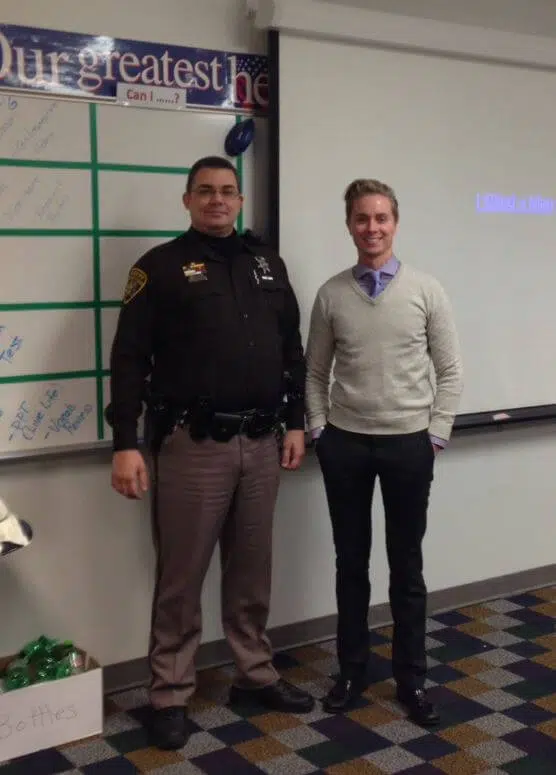 Consider the statistics:
Motor vehicle crashes remain the leading cause of death for 15- to 20-year-olds. (NHTSA)
1 in every 3 fatal crashes in Michigan involves alcohol and/or drugs. (Michigan Traffic Crash Facts)
There were 260 alcohol-impaired driving fatalities in Michigan in 2012. 32 of them were people under the age of 21.  (Foundation for Advancing Alcohol Responsibility)
Nearly 3/4 of students (72%) have consumed alcohol by the end of high school, and more than a third (37%) have done so by eighth grade. (SADD)
During this busy holiday travel season, kids are out of school and many teens are visiting friends and attending parties. Local law enforcement and the Michigan State Police have increased the numbers of officers on the road in 26 Michigan counties, which started on Black Friday and will continue  into the new year. The crackdown is called "Drunk Driving. Over the Limit. Under Arrest."
Related information:
Attorney Brandon Hewitt shares real examples of distracted driving car accidents with Grand Rapids students at Byron Center