HB 5636 – the "George Veness Bill" – could become law and provide protection for people in motorized wheelchairs and scooters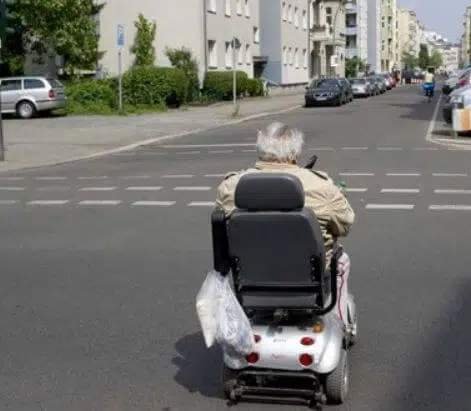 There is a dangerous trap in Michigan's current No Fault law that potentially leaves every motorized wheelchair and scooter user in this state at great risk. I discuss the case that started all of this in more detail below.  For now, the important thing is that much-needed No Fault protection for motorized-wheelchair users could soon become a reality – as well as the new law in this state – thanks to a courageous and justice-oriented bill introduced by Rep. Kevin Cotter (R-Isabella County).
I've previously written about how Rep. Cotter's House Bill 5636 will help motorized-wheelchair users get No Fault PIP benefits in the event they're struck by a car or truck and injured while using their motorized wheelchair. To learn more, take a look at my blog post, "How Rep. Cotter's golf cart bills WILL help motorized wheelchair users get No Fault benefits."
Specifically, Rep. Cotter's proposed legislation will now retroactively exclude motorized wheelchairs from the No Fault Law's definition of "motor vehicle." This would stop auto insurance companies like State Farm and Farm Bureau from denying No Fault PIP benefits, medical expense reimbursement and wage loss, like they did to Mr. George Veness (see next paragraph).
It would also stop insurers from making the very technical legal argument that under Michigan's No Fault law, someone using a motorized wheelchair would be barred from suing an at-fault driver of a car or truck that hit him for his injuries and pain and suffering from a motor vehicle accident. The argument in the Veness case was that because he did not have auto insurance on his wheelchair, he was  an uninsured owner-operator and under Michigan's No Fault laws, he could not sue the driver that hit him for his injuries. Of course, all of this is despite the fact that a person cannot insure his wheelchair in this state with auto insurance.
Rep. Cotter's HB 5636 was passed by the Michigan House of Representatives on a 104 to 3 vote on October 2, 2014, and it was approved (with minor technical, but not substantive changes) by the Senate Insurance Committee on December 2, 2014.
The Senate Insurance Committee also unanimously recommended that the full Senate pass the bill, according to draft minutes from the Committee's December 2 meeting.
Outrageous case created need for law to protect users of wheelchairs and scooters
My interest in the issue stems from the outrageous Macomb County car accident involving George Veness. Paralyzed from the waist down from a work accident years earlier, Mr. Veness was using his motorized-wheelchair to cross the street when he was struck and injured by an SUV being driven by an off-duty police officer.
What makes Mr. Veness's case so outrageous is that State Farm and Farm Bureau are both denying No Fault benefits and injury compensation to Mr. Veness on the basis that he did not have No Fault auto insurance on his motorized wheelchair.
As an attorney who has been practicing in this area for 20 years, it's still hard to believe any attorney would make this legal argument.
Yet two attorneys for two insurance companies, State Farm and Farm Bureau, did.  The auto insurers claimed that the motorized wheelchair was a "motor vehicle" for purposes of the No Fault Law and, thus, should've been insured. Because it wasn't, State Farm and Farm Bureau insist that Mr. Veness should be treated as an "uninsured" driver – which means he would be disqualified from receiving No Fault benefits and/or compensation for the injuries he suffered when the SUV crashed into him as he was crossing the street in his motorized wheelchair.
Here's my blog post on the Veness case, "State Farm's treatment of wheelchair-bound man so outrageously 'unbelievable' it couldn't be made up."
The reason Rep. Cotter's HB 5636 is so laudable is because it provides a simple solution to the problem that State Farm and Farm Bureau created in Mr. Veness's case.
And because it provides No Fault protection to Mr. Veness and to all other victims like him – present and future – who suffer crash-related injuries while using their motorized wheelchairs.
What's the simple solution that Rep. Cotter struck upon?
To eliminate any further preposterous and shameful arguments about whether motorized wheelchairs should be treated the same as cars and trucks for No Fault auto insurance purposes, Rep. Cotter proposed that the No Fault Law's definition of "motor vehicle" be retroactively amended to specifically exclude motorized wheelchairs.
What a sensible solution!
Michigan House-passes No Fault protections for motorized wheelchair users
On October 2, 2014, the Michigan House of Representatives passed – on a 104 to 3 vote – the "Substitute for House Bill No. 5636," which would amend as follows the No Fault Law's definition of "motor vehicle" to exclude motorized wheelchairs:
"Motor vehicle does not include … a motorized wheelchair, scooter, or other similar device designed to assist in the personal mobility of an individual and not for operation on a public highway." (See Substitute for House Bill No. 5636, Page 3)
Significantly, the House-passed bill provides that the motorized wheelchair amendment to the No Fault Law's "motor vehicle" definition "shall be applied retroactively." (See Substitute for House Bill No. 5636, Page 5)
Michigan Senate Insurance Committee-approved No Fault protections for motorized-wheelchair users
After passage by the full House, HB 5636 was referred to the Senate Insurance Committee, which, at a December 2, 2014, unanimously adopted "Senate Substitute for House Bill No. 5636."
Like the version passed by the House, the Senate Insurance Committee's version of HB 5636 excludes "motorized wheelchairs" from the No Fault Law's definition of "motor vehicle" – albeit in following, slightly different fashion:
"Motor vehicle does not include … a power-driven mobility device."

*    *    *

"'Power-driven mobility device' means a wheelchair or other mobility device powered by a battery, fuel, or other engine and designed to be used by an individual with a mobility disability for the purpose of locomotion."
(Sources: Senate Substitute for House Bill No. 5636, Pages 3-5)
The Senate Insurance Committee's substitute bill also provided that the motorized wheelchair amendment, i.e., the "power-driven mobility device" amendment, to the No Fault Law's "motor vehicle" definition "shall be applied retroactively." (See Senate Substitute for House Bill No. 5636, Page 6)