Why underride guards will save lives in rear-end truck accidents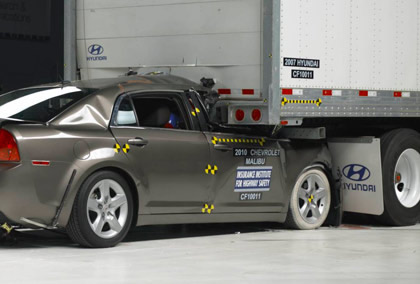 First, let's be clear: No one is blaming the truck drivers when a passenger car rear ends a semi tractor-trailer. The problem that exists however, is we know with statistical certainty that dozens and dozens of these truck underride crashes are going to occur every year. And we also know that a relatively inexpensive piece of equipment – the same type that has been mandated by law in Europe, Asia and South America – would save many lives if enacted by law here in the U.S. So this is not an issue of fault, but of saving lives when crashes will inevitably happen.
An accident on the I-696 ramp to I-75 had traffic backed up for miles, after a car crashed into a semi truck and slid underneath the trailer. The wreck occurred two weeks ago and the driver was sent to the hospital. And in another recent accident, a 22-year-old man, died after his had car slid under the back of a tractor-trailer truck in Brownstown Township.
Fox 2 News interviewed  Michigan Auto Law attorney Kevin Seiferheld, who has litigated several truck accident wrongful death cases, for more insight on how such a tragedy  could have been prevented.
Here's the Fox TV news story on the fatal crash, and the need for truck underride guards:
A truck underride guard is a metal bar or bars  that hang down from the bottom rear of a commercial truck's trailer to prevent cars from slipping underneath.
Kevin told Fox 2, "If the cars aren't able to go underneath the trucks, we don't have these types of fatalities."
He said the problem is that U.S. truck underride guards are simply not strong enough, citing a study from the Insurance Institute of Highway Safety indicating that underride guard bars are grossly inadequate and cannot withstand most impacts when struck by a car exceeding 35 MPH.
Kevin mentioned a package of bills requiring school buses to have underride guards, that were introduced three years ago after two students were killed when their car collided with the back of a school bus.
He said the simple bills were designed to save lives and the bills failed, adding that true change must take place on the federal level.
Here's a blog post I wrote with more information on the safety issue of truck underride accidents, including solutions to prevent them: "Terrible truck underride crash in Marshall, Michigan is a shocking reminder for tougher truck underride standards."