These candidates will best protect your legal rights, NOT the insurance industry's profit margins
The justices who serve on our Supreme Court  are hugely important, but unless you're a practicing attorney or judge, it's hard to know who  deserves your vote.
Commercials are not helpful. Every ad on television says the candidates "protect children." That doesn't tell us much.
But this is a hugely important vote when you're casting your ballot. And the Michigan Supreme Court can – and has – wreaked havoc on the legal rights of people hurt in automobile accidents. They're also responsible for one of the single worst legal decisions I've ever read  – the dreadful Michigan Supreme Court decision  in Cameron v. Auto Club.  The Cameron ruling, which drastically affects child auto accident victims, is a stark reminder of what can happen when the Justices on our highest Court are beholden to the insurance industry.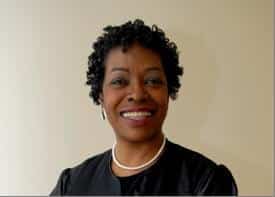 In fact, our current Supreme Court continues to favor insurance companies over consumers, and has ruled to limit No Fault insurance protections to the state's most vulnerable automobile accident victims, no matter how seriously they're injured.
It's time for balance – and balance that protects the vested legal rights of consumers. That's why Michigan Auto law attorneys endorse three candidates who can lead our Court  in a more fair direction: Chief Judge William Murphy, Judge Deborah Thomas and civil rights attorney Richard Bernstein.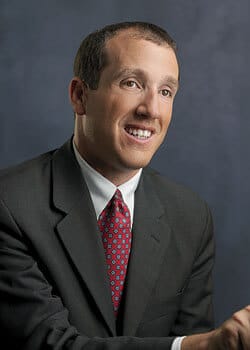 Here's how you can cast your vote
Your vote is so important.  It's especially important for judicial elections because so few voters complete the ballot.
The election is on November 4, 2014: Your vote for the Michigan Supreme Court will be the most important vote you cast
Your "straight party" vote is NOT enough: To vote for Bernstein, Murphy and Thomas, you have to do more.
Vote all the way down: Make sure you vote all the way down to the NONPARTISAN section of the ballot where the judicial elections are located.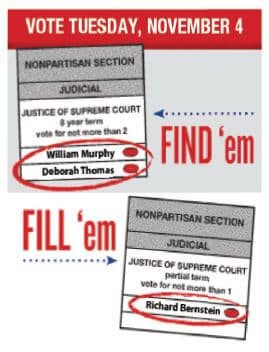 Related information:
The 38 judicial travesties of the Michigan Supreme Court
Michigan Supreme Court's No Fault ruling denies wheelchair van for motorcycle accident victim
Paid for with regulated funds by the Gursten, Koltonow, Gursten & Raitt, P.C., Committee, 30101 Northwestern Highway, Farmington Hills, Michigan 48334. Not authorized by any candidate committee.