Former MSU star Le'Veon Bell, now of the Pittsburg Steelers, sure did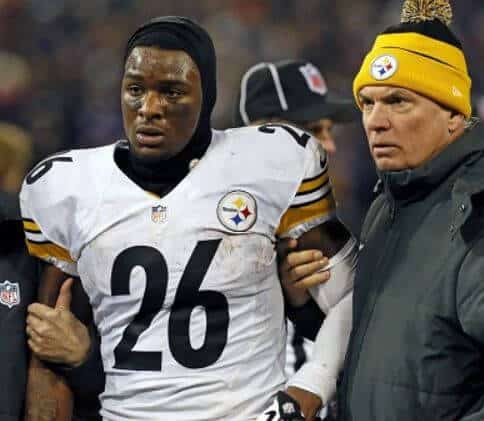 Spartan fans remember Le'Veon Bell bowling over would-be tacklers when he was playing football at Michigan State.
But his latest headlines aren't so much for his football play as they are for smoking pot and getting a DUI. Part of the criminal complaint for the recent arrest of Steelers running backs Le'Veon Bell and LeGarrette Blount (the last name being the butt of many blunt and chronic jokes as a result of the arrests) has been released. The two were formally charged with marijuana possession, according to WPXI in Pittsburg and published reports.
Bell, who was driving the car, was also charged with DUI.
According to the complaint, a motorcycle police officer pulled up alongside their black Camaro at a stop light and "could smell a strong odor of marijuana coming from the vehicle." The officer pulled the car over, and when asked, Bell said, "We smoked (weed) within the last two hours."
There was also ¾ of an ounce of marijuana in the glove box.
The complaint continued, "I informed Bell that because he was smoking marijuana, he could not operate a vehicle and could possibly be DUI. Bell replied, "I didn't know that you could get a DUI for being high."
In Michigan, where I primarily practice auto accident law, I often get questions about what are the potential penalties for driving while people use marijuana, and especially whether medical marijuana use could result in a DUI or other criminal charges.
Take a look at my blog posts for more information on each of the issues related to marijuana use and driving:
What happens when someone using legal medical marijuana causes a car accident?
What are the penalties when a driver on illegal drugs causes a car accident?
Here's the surprising thing about all this – and it goes to Bell's point that you cannot get a DUI from just being high: Driving while under the influence of marijuana is not safe, as many people mistakenly believe (insert joke of going 10mph in the slow lane here). And smoking pot and driving is not necessarily safer than drinking and driving – as many people again mistakenly believe.
In fact, smoking pot and driving is a lot more dangerous than people understand. I wrote a blog post about a Columbia researcher's study that examined fatal car accidents involving marijuana over the last decade:
"According to a recent study [the results of which were published in published in the American Journal of Epidemiology] of marijuana use and car accidents, fatal crashes involving people who were stoned have tripled over the last 10 years."
In the next few years, state legislatures and cities that have already legalized marijuana will have to deal with this grey area in the law, especially if as the early evidence suggests, people who are using marijuana are disproportionately being involved in a great number of motor vehicle accidents.
Stay tuned.