Would an 'ethical' auto insurer ignore its customer's harmful actions? Expose wheelchair users to harsh consequence if injured by a car? Fault car accident victims for not having non-existent coverage?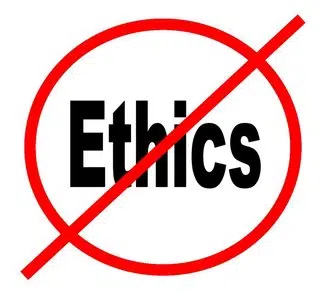 Is Farm Bureau the "ethical" auto insurance company that it wants the public to believe it is?
It clearly wasn't for the first decade of my own legal career, when I would watch them would force their own customers who were seriously injured in automobile accidents to go to trial with insurance companies that were already offering their full policy limits to settle, all as a way to avoid paying out on underinsurance claims.  See yesterday's blog post on just how ethical Farm Bureau was being to its own customers.
And the answer is still a "No," judging from the auto insurer's actions most recent actions in a case where it shamefully chose to deny any pain and suffering compensation to paralyzed car accident victim George Veness — because Mr. Veness did not have No Fault auto insurance coverage  – for his wheelchair!
The legal defense in this case being made by Farm Bureau is that Mr. Veness was an uninsured driver of, not a car, but a motorized wheelchair that he was using to cross the street.  Mind you, there is no insurance company that I can find that even offers this type of insurance coverage. Farm Bureau is just making it up, even though Mr. Veness couldn't possibly have insured his wheelchair because it doesn't even exist! Mr. Veness was struck by a car being driven by a Farm Bureau customer.
I'm no law professor (well, actually I'm asked every year to teach classes at Michigan law schools on the No Fault law, trial advocacy, and pre-trial discovery. Maybe I should say I'm no full-time law professor), but there is something about the ethics of Farm Bureau pushing a quite frivolous legal defense that an ethics professor might have an opinion about.
For more about how Mr. Veness is being denied compensation and No Fault benefits, take a look at my blog post, "State Farm's treatment of wheelchair-bound man so outrageously 'unbelievable' it couldn't be made up."
When Local 4 WDIV TV's "Ruth To The Rescue" asked Farm Bureau about it choice to deny compensation to Mr. Veness, rather than admitting it was acting out of greed and self-interest, Farm Bureau tried to portray itself as acting in accordance with "an ethical obligation" to its insured:
"Farm Bureau Insurance Company of Michigan … [has] an ethical obligation to [our insured] to provide him a vigorous defense to all claims that are being asserted by Mr. Veness …"
Tomorrow,  I will analyze the other aspects of Mr. Veness's case and explain how Farm Bureau's actions undermine its portrayal of itself (and let's not forget all that advertising) as an auto insurer driven by "ethical" considerations.