These protective suits are equipped with airbags along the collarbone and over the shoulders – where motorcycle injuries are most critical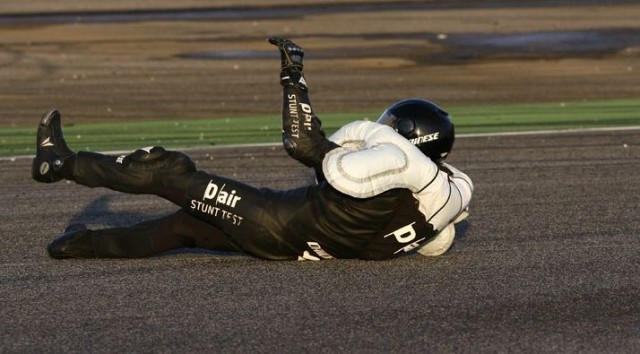 At first, it sounds like science fiction.  Or maybe a comedy.  Imagine a movie with people riding motorcycles covered in giant protective suits that inflate to protect them in the event of a crash.
But one day soon this may be something many motorcycle enthusiasts will have.
The idea is a protective suit that provides comprehensive protection for a rider in a motorcycle  accident.
What's happening now is the advent of motorcycle suits equipped with airbags along the collarbone and over the shoulders, where many motorcycle accident injuries can occur and where protection is most critical. These self-inflating compartments, driven by compressed gas, make it possible for a motorcycle rider to walk away from a crash that before could have resulted in catastrophic personal injury.
A recent article in Bloomberg News, "Motorcycles at 150 MPH Made Less Risky with Wearable Air Bags," outlined the use of such safety technology by an avid motorcyclist, David Hanig.
On weekends, the 38-year-old brokerage salesman of California zooms around tracks across the country on one of his six motorcycles. He races in a Dainese D-air airbag suit from Italy. "It has three accelerometers, three gyroscopes, a GPS and onboard electronics that synthesize all that data and tell the D-air to pop before the racer hits the road," according to Bloomberg.
Dainese states that its suit is triggered by a radio-activated "ripcord" that can help after the collision and protect the driver, at least for a second impact. It has an inflation time of only 45 milliseconds.
While driving motorcycles at such high speeds is reckless for non-professional street racers, there's definitely something to be said about having the right gear, and in this case, the best gear.
A first to motorcycle safety is always wearing a safe motorcycle helmet – even though in Michigan, where I'm an attorney and where I primarily practice law, riders have the option of riding without a helmet.
The battle over forcing motorcycle riders to wear a helmet has been bitter enough – with many motorcycle enthusiasts adamantly against it. But now imagine a motorcycle airbag suit – and the outcry that might come – for something that could bring injury prevention to an entirely different level.
You can't buy a Dainese suit yet in the U.S..  The U.S. Federal Communications Commission must approve the electronics in the suit first. Vittorio Cafaggi, strategic development manager at Dainese SpA in Vicenza, Italy told Bloomberg he hopes the D-air will be on the market by the end of the year.
Hanig bought his suit abroad. He has had four high speed crashes in 2013 and walked away from all of them, thanks to his motorcycle airbag suit.
How wonderful it would be if one day the technology in suits like this make the vast majority of motorcycle accident and injury cases a thing of the past. As an attorney that has had to help the victims of these terrible accidents for about the last 20 years, I'd be quite happy to see this aspect of my law practice become obsolete by safety technology.
Perhaps between this and Google cars, I might actually…(insert your favorite lawyer joke here)!