Most truck roll over accidents are  are preventable, according to FMSCA study on this common type of truck accident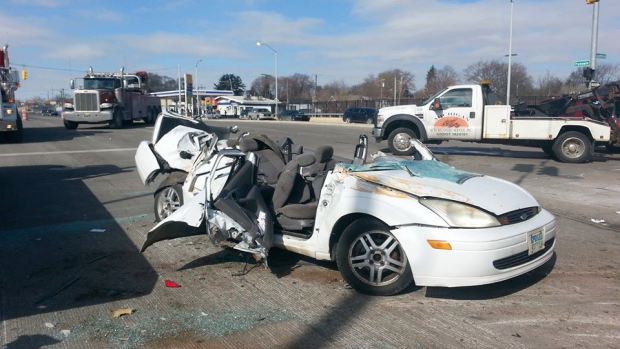 One of the very first truck accident cases I handled about 20 years ago involved a roll-over. And in the 20  years since, I've handled many more, both for truck drivers and for people who were terribly injured when a truck rolled onto and over their cars.  I've also spoken at legal seminars on this topic and my legal partners have answered live questions from truckers about rollovers on the Dave Nemo show on Road Dog radio.
While all crashes are terrible and unfortunate, truck rollover accidents are by far one of the most deadly. Even worse, such truck accidents result primarily from negligent acts on behalf of the trucking companies.  What makes them so tragic is that they're nearly always preventable.
And rollover accidents are also becoming more common. They're estimated to be involved in nearly one in 10 truck accidents. In Michigan, where I primarily practice law, the news reported about one particularly tragic rollover in February of this year: A truck rolled over a car  in Detroit, taking the lives of three people. Tracey Thomas, 43; her mother, Dorothy Thomas; and her brother, William Thomas were killed when a 50,000-pound semi truck rolled on top of their car, according to a story on CBS Local Detroit. Authorities said the truck was traveling north as the car was going through the Plymouth Road intersection. Witnesses described "an unbelievable scene" as they watched those inside the Ford Focus being extracted by Jaws of Life after the sedan was crushed. Meanwhile, it took four hours to get the truck up right again.
Why do I write that these types of crashes are largely preventable? A Large Crash Causation Study (2002) by the Federal Motor Carrier Safety Administration (FMCSA), which analyzed 239 fatal and injury crashes in which a truck rolled over, sheds light on the causes – and solutions – for this growing safety crisis that has taken so many lives.
An estimated 9% of all large truck crashes involve rollovers, according to the study.
How do truck rollovers occur? The FMSCA states that when a truck travels along a curved path, centrifugal force causes it to lean away from the direction of the curve. The result can be a "rollover" in which the truck overturns. Tractor-trailers are particularly vulnerable because of the trailer's high center of gravity and frequently unstable loads.
Why do these motor carrier crashes keep happening? When I've spoken to lawyers who litigate these cases, I've said it boils down to the truckers and truck companies who are breaking mandatory safety laws.  If these federal and state regulations were not being violated, the truck rollover could not occur.
Here are the top four causes of fatal truck rollover crashes, according to the study:
Failing to adjust speed: To curves in the road (mostly on and off ramps), as well the load being carried, condition of the brakes, road surface, and intersection conditions. Speed was the biggest contributor to rollover crashes, being involved in 45% of crashes in the study sample.
Truck driver inattention: Simply being inattentive, dozing or falling asleep and distraction – these have all led to situations where a sudden direction change resulted in a rollover.
Steering: Including over-steering to the point of rollover, not steering enough to stay in lane, and over correcting to the point of having to counter-steer to remain on the road.
Loads: Drivers fail to take account of their weight, height or security, or when loading takes places before they're assigned. In my own legal practice, I help a large number of truck drivers who are injured in truck accidents caused by other motor vehicles. But load shifts causing terrible injuries are the second most frequent type of calls I receive from truckers (and the cause of my very first truck accident case two decades ago).
The FMCSA study concludes that rollovers are the deadliest crashes, occurring with particular frequency on freeway ramps and inclines. The study suggested the use of sensor-activated warning signs that detect unsafe approaches.
While "… Each of these (causes) is primarily due to an error on the part of the driver, less often some other driver or condition of the truck," stated the FMSCA,  the good news is the causes can become the object to preventative measures.
What can we do to prevent truck rollover crashes?
The FMSCA's solution is as follows:
"Instruction in rollover prevention, like most truck driver training, comes through printed publications. The use of video would help drivers recognize incipient rollovers while currently available simulation would allow drivers to experience the consequences of mistakes without risk."
In the meantime, it's up to truck companies and their safety managers to train drivers to follow the laws, not to push them to drive over hours and disregard the FMSCRs in exchange for a bigger bottom line.
Related information:
Michigan truck accident facts from A to Z
 – Photo courtesy of WWJ