Even though the coverage doesn't even exist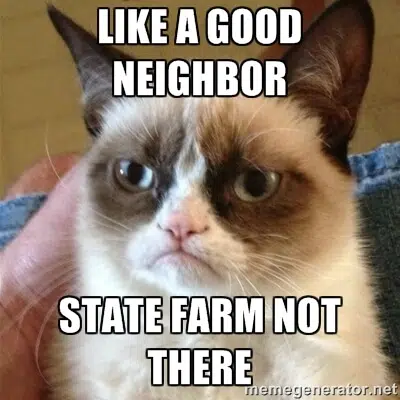 How can a seriously injured  car accident victim who needs surgery be denied No Fault benefits for not having auto insurance on his wheelchair when he was struck and seriously injured by a car?
Especially, when this  coverage he was supposed to have (according to State Farm and Farm Bureau)  doesn't exist?
You can't punish someone for not having insurance that doesn't even exist,  right?
Wrong!
Based on the legal arguments in a pending Macomb County case, State Farm Mutual Automobile Insurance Company apparently thinks there's nothing wrong with this.
In the Macomb County case (which I wrote about  last week), State Farm is refusing to pay (i.e., denying) a paralyzed man's insurance claim for No Fault benefits on the basis that he didn't have No Fault auto insurance.
For his motorized wheelchair!
The man  was using to cross the street when he was struck by a car driven by a man from Shelby Township.  A lawsuit was filed by the injured man in Macomb County, Michigan.
To read more, please check out my blog post, "Do you Need No Fault Insurance for Wheelchairs?"
What happened to George Veness is straight out of a Kafka novel
What makes this latest example of State Farm refusing to pay a valid No Fault claim so shocking is that State Farm is penalizing the man for not having an insurance coverage that that doesn't even exist.
You read that correctly. State Farm is actually refusing to pay PIP benefits for this man who desperately needs surgery because the auto insurance coverage that they claim he should have had for his wheelchair doesn't even exist  – even from State Farm!
In my blog post last week, respected independent insurance agent Jason Verlinde, who is the President of Verlinde Insurance Agency in Richmond, Michigan, told us he believed it would be impossible for a person to get a Michigan No Fault auto insurance policy for a motorized wheelchair.
Significantly, Verlinde added:
"'Bottom line is that if the injured individual would not have been able to secure a auto-policy for his wheelchair …, I find it hard to believe that an insurance company can deny PIP coverage based on the fact that he should have insured it.'"
This was confirmed by Michigan attorney and insurance law expert Michael S. Hale, who reviewed the case and concluded State Farm doesn't even offer No Fault auto insurance coverage for motorized wheelchairs:
"Our research and experience is that State Farm does not offer this [coverage]. They are more of a cookie cutter auto insurer."
Hale is President of Michael S. Hale & Associates, a Northville law firm that "specializes in insurance coverage and risk management related matters."
Sometimes, when I write about certain cases, I'm accused of bias because I am an insurance attorney who focuses my practice on helping people hurt in serious car accidents. So, to avoid that here, I also reached out to State Farm.
State Farm did not respond to Michigan Auto Law's request for information. In an e-mail to State Farm's media spokesperson for Michigan, Angie Rinock, we asked: "Does State Farm write No Fault auto insurance policies in Michigan to cover motorized scooters/wheelchairs like the one at issue in the case covered in the Macomb Daily article?"
Additionally, if the answer was "yes," we asked how long State Farm had been writing such insurance policies in Michigan, how many policies have you written  and how much do they cost.
I'll let you if we hear back from State Farm.
Speaking more generally, Hale noted that "many carriers do not offer No Fault PIP coverage" for motorized wheelchairs (which are also referred to as motorized scooters and/or mobility scooters).
Michigan insurance agent Terry Johnston agreed with both Verlinde's and Hale's conclusions.
In her posts on Michigan Auto Law's Facebook Page, Johnston said:
"As a licensed P&C [property and casualty] agent in Michigan, I have never [written] for a company that … carried wheelchair insurance. It doesn't exist. … [T]here is nothing with liability or PIP coverage for a wheelchair."
*    *    *
"Neither [I] nor my co-workers have heard of wheelchair insurance with PIP coverage. It's crazy to think of such a thing. State Farm should be ashamed of themselves."
Related information:
Are elderly and disabled people who use motorized wheelchairs in Michigan 'uninsured motorists'?