State Farm declares open season on All wheelchair users in the state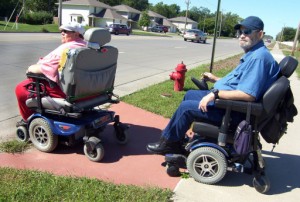 If State Farm (and Farm Bureau too) are correct, then every senior citizen and physically disabled person in Michigan has a very big problem.
State Farm and Farm Bureau contend that every single person who is using a wheelchair right now is uninsured, if that person hasn't insured the wheelchair or scooter they use with Michigan No Fault insurance.
That means that under Michigan's unusually harsh auto law, every single person who uses a wheelchair or scooter and who has the misfortune to be hit by a car cannot sue the person who hits them, no matter how serious they are injured. It means they cannot collect No Fault insurance benefits from the insurance company of the person who hits them. And it means the insurance company of the driver who hits a person in a wheelchair and who clearly causes the automobile accident can actually turn around and sue the injured wheelchair-bound person for all No Fault benefits they pay to their own insured customer (the person who was at fault and caused the car accident!).
If State Farm and Farm Bureau are correct, then it is open season on the elderly and the disabled. You could drive right over them, and then turn around and sue them for everything your own No Fault insurance company pays you for causing the car accident.
That's the utter legal nonsense that State Farm and Farm Bureau is trying to peddle right now to a Macomb County judge.
Last week, I wrote about the front page story in the Sunday Macomb Daily. The story centered on State Farm's cutoff of No Fault insurance benefits to a  paralyzed man who was hit by a car. Until this case, the law in Michigan was that the paralyzed man in the wheelchair could, under Michigan's No Fault order of priority statute, make a No Fault claim with the insurance company that insured the car. He desperately needs another surgery because of the car accident, according to the story in the Macomb Daily.
But State Farm isn't paying.  Instead, the insurance giant is taking the position that it doesn't have to pay  No Fault because the man did not have auto insurance on the wheelchair he was using to cross the street when he was hit by a car.
Here's my blog post, "Do you need No Fault insurance for wheelchairs?"
Every reader of this blog knows how I feel about this.  But some people might dismiss my opinion as biased because I'm an attorney and I often write about State Farm and Farm Bureau.  So I reached out to  a respected independent insurance agent for his opinion.  The agent said the State Farm cutoff defied "common sense."
How the elderly and disabled in motorized wheelchairs would be punished
If State Farm prevails, think about what this means: Every elderly person and senior citizen, and every disabled and paralyzed person who depends on motorized scooters and wheelchairs for transportation, are now are required to purchase auto insurance and insure their own wheelchairs and scooters.
It also means that every single person who now is using a wheelchair or scooter are uninsured at this moment.
And that would be catastrophic.
Should any one of these people be injured in a  car accident, then the elderly, the disabled and the injured who do not have No Fault auto insurance for their motorized wheelchairs will be subject to the following:
Being barred from receiving any and all No Fault benefits such as reimbursement for their accident-related medical expenses (which in many cases runs into the $100,000s or even $1,000,000s) and lost wages.
Being barred from suing the at-fault driver for pain and suffering compensation, i.e., non-economic loss.
Being sued and held personally liable by the at-fault driver (yes, you read that correctly) and/or the at-fault driver's auto insurance company for the at-fault driver's accident-related medical bills and lost wages and for all of the costs associated with repairing the at-fault driver's accident-related vehicle damage.
Being sentenced to jail and/or forced to pay fines for driving without the legally required No Fault auto insurance.
To read more, please check out my blog post, "Top 9 risks of driving uninsured In Michigan."
"Outrageous" only begins to describe State Farm's legal position
Although I don't know exactly how many people in Michigan are using motorized wheelchairs, I do know  the numbers are substantial.
For instance, members of or patients of members of the following groups would certainly be drastically affected (i.e., they would be transformed, as if by State Farm magic, into "uninsured" motorists for riding in their wheelchairs!) if State Farm's distorted legal interpretation of the No Fault law were accepted and became the law in this state:
AARP Michigan
Michigan Paralyzed Veterans of America
Disability Network of Michigan
Michigan Office of Services to the Aging
Michigan State Medical Society
Brain Injury Association of Michigan
Eisenhower Center
Mary Free Bed Rehabilitation Hospital
Hope Network
Walk The Line To Spinal Cord Injury Recovery
Rainbow Rehabilitation Centers
Michigan Spinal Cord Injury Association
But, wait a second.
Maybe I'm not giving State Farm enough credit.
I know I'm really railing on State Farm and Farm Bureau for attempting to turn the elderly, the disabled and the injured who never purchased No Fault auto insurance for their motorized wheelchairs into "uninsured" motorists.
But what if this isn't all about State Farm setting up a ready-made defense to use to avoid paying out on any No Fault claims filed by persons who were using motorized wheelchairs when they were hit and injured by a car?
After all, State Farm's intentions could be something else completely.
Maybe, as I suggested in my blog post last week, it's just State Farm's clever (in a Dr. Evil type of way) for creating a giant new market for its product:
"Is this a very clever money grab by State Farm?

Did State Farm just force every person who is paralyzed or elderly or physically disabled and who requires use of a wheelchair and motorized scooter to buy expensive, additional new No Fault auto insurance policies – on all wheelchairs and scooters in the state?!"