By signing a terrible new law that eliminates driver responsibility fees and lets dangerous motorists drive easier, the Gov. missed opportunities to pay to fix roads, to avoid tax increases & to encourage safe driving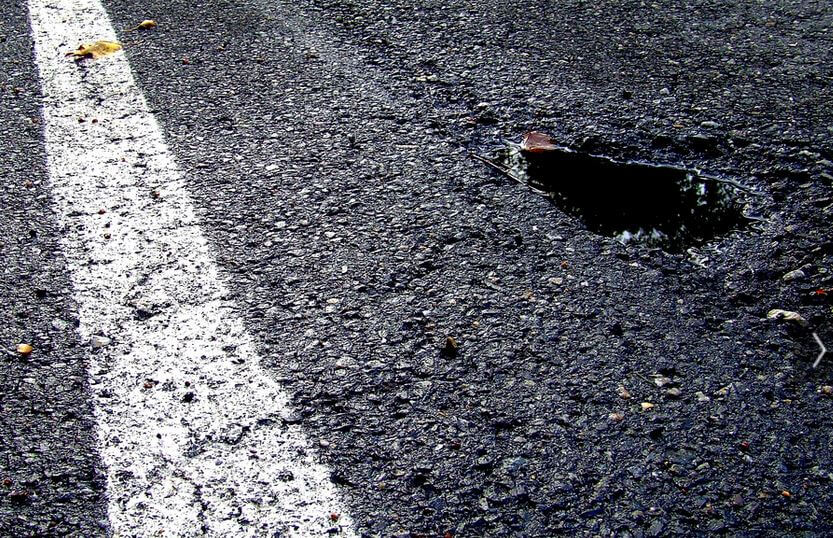 Did you know there was a way for Michigan to raise $100 million per year to pay to fix the state's dangerously dismal and decaying, pothole-pocked roads – that would not involve raising taxes, but would encourage safe driving?
But Gov. Rick Snyder missed the opportunity to take advantage of it.
Instead, he threw the money away and, thereby, all but guaranteed that taxes will have to be increased to pay for the road "fixes" that Michigan desperately needs and deserves.
Plus, he made it easier and cheaper for the state's worst, most dangerous drivers to keep driving.
It didn't have to be this way.
And it wouldn't have been if only Gov. Snyder had vetoed the dangerous and irresponsible House Bill 5414 – something I wrote about last week and called the worst law in 2014 –  which would eliminate the "driver responsibility fees" for Michigan's worst and most dangerous drivers, such as those who drive drunk, those who kill and maim other motorists in preventable car accidents, and those who flee from police.
Instead, on June 21, 2014, Gov. Snyder signed HB 5414 and, thus, severed permanently the consistent, reliable revenue stream of $100 million per year that was generated by the "driver responsibility fee."
Data reported by the House and Senate Fiscal agencies show that the existing "driver responsibility fee" law (MCL 257.732a) has been consistently generating approximately $100 million per year in revenue for the last several years:
Driver responsibility fee revenue (calendar and fiscal year):
Calendar 2006, $108 million****
Calendar 2007, $120 million****
Calendar 2008, $99 million****
Fiscal year 2009-10, $114.8 million***
Fiscal year 2011-12, $100.2 million*
Fiscal year 2012-13, $100.1 million**
Sources: House Fiscal Agency, Legislative Analysis, House Bill 5414 (5/12/2014)*; Senate Fiscal Agency, Bill Analysis, House Bill 5414 (6/11/2014)**; House Fiscal Agency, Legislative Analysis, Senate Bill 166 (11/10/2011)***; "State Notes," "Driver Responsibility Fees," Senate Fiscal Agency Analyst Joe Carrasco, Jr. (Fall 2011)****
With that consistent, reliable stream of revenue already in place and given the expected staggering costs associated with filling the state's staggering numbers of potholes, why not veto HB 5414, continue the existing "driver responsibility fee" law and designate the revenues as "road fix" funds?
The idea is not new.
In fact, it's very similar to what Grand Rapids did in May when voters approved a "streets tax" that would raise $10 million annually through 2030, as I discussed in my blog post this week. The streets tax was really nothing more than an extension – without an increase – of the city's income tax on the condition that the revenues would be used for "vital streets" purposes.
Not only would a veto of HB 5414 have made great financial sense for a cash-strapped state that's finding it difficult to fund the road repairs its citizens need and deserve, but it would have encouraged safe driving (as I discuss below).
Note that the Michigan Legislature went on summer holiday before coming to a solution on how to fix our roads. Our roads aren't getting any better and summer peak travel is now upon us.
Driver responsibility fees make us all more safe
If you read the comments I've received in response to my post on why eliminating the driver responsibility fees is such a terrible idea, it's clear that proponents of the new law (or those who work for Rep. Haveman) are completely ignoring the societal protection that comes from the law's secondary purpose of punishment and deterrence.
As the Senate Fiscal Agency reported in 2003, when analyzing the bill that would become the "driver responsibility fee" law, the rationales for the "driver responsibility fee" included the following:
"Reportedly, over the last eight years, 1,822 people, an average of four per week, have died in Michigan in accidents caused by drivers whose records contained moving violations, serious accidents, drunken driving convictions and license suspensions."
The DRF "should be a deterrent to dangerous drivers."
"Since repeat violators do not seem to be affected by concern for the safety of others, a severe financial burden is needed to make drivers aware of the seriousness of their actions and to prompt them to change their behavior."
"It is often the case that ["bad drivers"] respond more to something that directly affects their pocketbooks. The driver responsibility fee will make it too expensive for people to continue driving dangerously."
Accordingly, the "driver responsibility fee" that was passed in 2003 – and continues to be the law today – imposed a two-year "driver responsibility fee" of $1,000 per year on Michigan's worst and most dangerous drivers:
Drivers who commit manslaughter;
Drivers who commit negligent homicide or are involved in a felony involving a car;
Drivers who commit a DUI;
Drivers who are involved in a hit-and-run accident (i.e., failing to stop at an automobile accident):
Drivers who flee or elude from the police.
For drivers with more than seven points on their license, the "driver responsibility fee" is $100 per year and, for some other drivers, the fee is $500 per year.
Yet, despite the safety and financial benefits of the "driver responsibility fee," Michigan lawmakers and now Gov. Snyder have quite inconceivably chosen to throw their support behind the worst of the worst of Michigan's dangerous drivers. Any tax, apparently, is a bad tax. Even one that is aimed at punishing a very narrow segment of the population that has already demonstrated a lack of regard for the safety of others on the roads, and that is aimed to make the vast majority of us more safe.
And yes, this one is personal to me. As an attorney, I'm the one that has to meet with the families when they've lost a loved one to a repeat drunk driver, or someone who has been killed in a car accident by an individual without insurance and who already has a dozen license suspensions (if you think I'm embellishing, look at last week's blog where I share a current case I have where the person who caused the motor vehicle accident already has 46 confirmed license suspensions on his record).
So Gov. Snyder: Why didn't a veto of HB 5414 in order to secure $100 million per year to fix Michigan's roads, to avoid tax increases for Michigan citizens and to protect Michigan's drivers, qualify as the kind of "relentless positive action" you've pledged to pursue as Governor?