There's an app for that! Smartphone apps prevent texting while driving while blocking drivers' incoming messages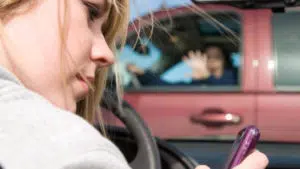 As an attorney, I've now been involved in a number of tragic car accidents helping people who have been seriously hurt by texting drivers who should have been watching the road. Texting has become a huge problem, and a growing cause of accidents and distracted driving, in Michigan and other states.
So, who would've guessed that the key to stopping a driver from texting is… the Smartphone?
It's wonderfully ironic, but true nonetheless.
Smartphone apps are available today to stop this.  These apps  are not science fiction or wishful thinking.  Many  offer solutions to fix the dangerous threat to the public of drivers texting while driving.  Many are currently available for download.
Not only is it illegal in Michigan and many other states, but it's also clear that texting while driving is extremely dangerous:
"Text messaging made the risk of crash or near-crash event 23.2 times as high as non-distracted driving," according to a 2009 study from the Virginia Tech Transportation Institute the Virginia.
Texting while driving and other driving distractions "led to more than 3,300 deaths and 416,000 injuries in 2012," according to ConsumerReports.org's article, "Apps that shut out distractions."
Both Consumers Reports and "Texting & Driving … it can wait" have published articles highlighting several apps that Smartphone users – or their family members – can use to prevent the phones from being used for texting while the phone's owner is driving.
Below is what both organizations had to say about each of the apps:
AT&T Drive Mode
ConsumerReports.org: "DriveMode can be set to automatically turn on when it senses that the vehicle has reached about 25 mph. Its 'allow list' lets [a driver] choose five contacts who can call … without being blocked and vice versa, whether or not the phone is connected to the car via Bluetooth for hands-free use."
"Texting & Driving … it can wait": "When enabled and the vehicle is moving 25 mph, the app automatically sends a customizable auto-reply message to incoming texts, letting [a driver's] friends know [she's] behind the wheel and will reply when it's safe."
Verizon Safely Go
ConsumersReport.org: "This one has to be manually activated every time a driver gets in the car. It allows calls from three 'VIP' contacts to get through unblocked. … What we found: There are too many steps to activate the app, and it takes discipline to remember to turn it on every time [a driver] get[s] in the car."
"Texting & Driving … it can wait": Safely Go receives a driver's calls and texts while the driver is driving.
Sprint Drive First
ConsumersReport.org: "Drive First automatically turns on and locks the phone when the car reaches 10 mph. Five contacts can ring through …. In hands-free mode while using Bluetooth, [a driver] can call out to anyone. Sprint also has a website that allows a person (such as a parent) to monitor the phone to tell whether the app has been deactivated."
Safely Go for Sprint
"Texting & Driving … it can wait": "Safely Go … automatically repl[ies] to texts and send [a driver's] calls to voicemail."
Related information:
OrigoSafe: Finally, a way to stop people from texting while driving