Michigan law makes it illegal to leave a child 'unattended in a vehicle' if it poses 'unreasonable risk of harm or injury' to a child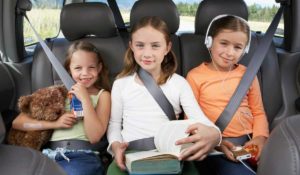 Can a parent be arrested for leaving a child alone in the car?
I'm writing this on Sunday, June 1.  The temperature reached almost 90 degrees today, which makes me think about two recent instances where I saw parents leaving children in cars.
The first was at a busy gas station on Washtenaw Avenue in Ann Arbor recently when I was meeting a client at our Ann Arbor law office.  I saw a father leave his toddler (who was strapped into a car seat) alone in the car at the gas pump for 15 to 20 minutes while the father went into the station.
A few days later, at a busy gas station on Northwestern Highway close to our main Michigan Auto Law law offices in Farmington Hills, I saw a mother leave her two car-seated children in her SUV at the gas pump for about 15 minutes while she went into the station.
Neither parent chose to leave their cell phones in the car.
I think something is wrong here.
For the record: I never, ever leave my kids alone in the car … or anywhere.  And it's not because everyone of my generation is an overprotective helicopter parent.
One, because it's not safe. They could either hurt themselves or someone else could hurt them. Two, because, regardless of what the law says and/or what the penalties are, my wife would … well, let's just say it wouldn't be pretty.  She's a lot tougher than some of the insurance defense lawyers I deal with every day.
And, as it turns out, my instincts were right.  When I started researching this issue, I found that a person can be arrested in Michigan for leaving his or her kids alone in the car. I think most people have no idea that this is a law in this state.
Under a law passed by the Michigan Legislature in 2009, parents or other adults:
"[S]hall not leave [a] child ["less than 6 years of age"]  unattended in a vehicle for a period of time that poses an unreasonable risk of harm or injury to the child or under circumstances that pose an unreasonable risk of harm or injury to the child." (MCL 750.135a(1), (3)(a))

*    *    *

"'Unattended' means alone or without the supervision of an individual 13 years of age or older who is not legally incapacitated." (MCL 750.135a(3)(c))

*    *    *

The penalties for "leaving [a] child unattended in [a] vehicle" range from up to 93 days in jail to 1, 10 or 15 years in prison for "violation" of the statute that results in "physical harm," "serious physical harm" or "death of the child." (MCL 750.135a(2))
Janette E. Fennell, founder and president of the national child safety organization Kids and Cars.org, praised Michigan's law and its effectiveness in protecting kids from the dangers of being left alone in cars, according to a 2009 MLive article.
"I don't think people appreciate how dangerous it is to leave children alone in a car …"
"[What if] someone jumps in and steals the car and doesn't plan on a kid being in it? They're either going to ditch that car or ditch the baby …"
In the same MLive story, Saginaw Township Police Lt. Gary P. Grauf gave his opinion about the wisdom of leaving one's kids alone, unattended in a car:
"Having three kids myself, yeah, it's inconvenient to bring the kids for a short run into a store, but I've never left them in the car."
According to Kidsandcars.org, Michigan is only one of 19 states that have laws making it illegal to leave kids alone and unattended in a car or truck.
So what can – and can't – parents do?
As for how the law prohibiting children from being left unattended in the car has been interpreted, there's little information for parents and other adults to go on.  There are very few cases reported on this.
In 2009, a Flint mother was found guilty of violating MCL 750.135a after she left three children (ages 4, 6, and 8) "unattended in her SUV for about 20 minutes during the afternoon" in a Meijer's parking lot when the mother went inside and waited for a cake to be decorated, according to the MLive article mentioned above.
Similarly, in 2013, a Brighton mother pleaded guilty to violating MCL 750.135a after leaving her 4-year-old daughter in the family SUV watching a movie for 15 minutes while the mother ran an errand in J.C. Penney, according to Today.com. The incident also resulted in the mother being investigated by Child Protective Services.
A search of Michigan Supreme Court and Michigan Court of Appeals opinions for "MCL 750.135a" or "Leaving child unattended in vehicle" yielded no results.
Yet, the Michigan State Police, in a 2009 "Legal Update," offered the following observation:
"It is important to note that for a violation to occur the risk to an unattended child must be unreasonable. While the legislature did not define what is unreasonable, it is clear they did not intend to punish the simple act of leaving a child unattended when no aggravating factors exist."

*    *    *

"Officers investigating violations of the new statute should ensure they fully document factors that might affect reasonableness (e.g., interior and exterior temperature, location, length of time, items in the vehicle, whether the vehicle is locked or running)."
I've previously written about child heat stroke in cars. This often happens when parents leave their children unattended.
I would normally say it's common sense, and everyone knows how dangerous this is.
Sadly, that just isn't the case.