David Hopper gives safety advice from his 20 years behind the wheel of big rigs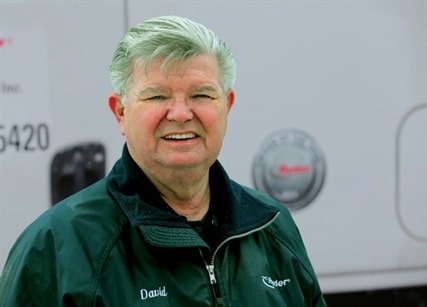 When a serious truck accident occurs, many people blame the truck driver. In reality, it's most lawyers too.  Too many lawyers who treat truck accident injury cases like car accident cases only focus on the driver.  These attorneys don't understand that in many instances, it's the trucking company that pushes truckers to break safety rules.
I was one of those lawyers once.  It took me quite a few years to realize this, by the way.  Even when I was traveling around the country and being introduced at legal seminars as an "expert" on these cases, I can remember about 12 years ago playing a videotape of "highlights" of depositions I had taken of truck drivers. The answers and admissions would draw a lot of laughs from the lawyers in the audience.
But I was making a classic mistake, and it's one of those things I wish I could take back. Instead of focusing on the driver, I better understand that in many of those cases, it was the company that was making the driver the "fall-guy" for systemic violations by management. Often, the truck driver was under pressure or risked being fired if he didn't do what he was directed.  As an attorney, I didn't yet realize at the time that for too many trucking companies, the role of the safety director is to help the company pressure drivers to break safety rules, and to find ways to violate federal and state safety regulations instead of making sure the company and its drivers abide by the laws.
There are still far too many trucking companies today that are willing to put our families in peril in exchange for a bigger bottom line.  I've been a truck accident attorney now for 20 years, and I know there  are many good, experienced truckers who take their jobs and the safety of others very seriously.  They are the majority of truck drivers on our roads today.  And I've had the pleasure of helping many of these law-abiding truck drivers over the years when they're hurt in wrecks that were not their fault.
That's why I so enjoyed writing today's blog.  I like riding about the good guys.  And one of  the good guys is Ryder's 2013 "Truck Driver of the Year" David Hopper. Hopper has some great driving safety tips from his two decades of trucking experience. I thought it would be a good time to review his advice – from a trucker's perspective for drivers of cars – in preparation for the traffic-jammed Memorial Day holiday weekend.
He  recently shared his safety tips on truckinginfo.com, "Driver Safety Tips for Memorial Day Weekend."
Here's a quick summary:
Do your own pre-trip inspection: Before you take off on a long road trip, check your tire air pressure and make sure you have fresh wiper blades.
Keep calm in Memorial Day traffic: You're stuck, so there's no sense in getting agitated. Turn the music up and be patient.
Beware of other drivers' common mistakes: Many people make improper lane changes and fail to use their turn signals. They also brake last minute when merging.
Avoid distracted drivers: Aside from not texting while driving yourself, you can move away from a distracted driver when you spot them.
Remain alert: If you're alert and aware of what's happening around you, accidents can be prevented. If you start to feel tired, pull over and take a break.
Brake sooner when hauling a heavy load: This rule applies across the board and prevents whatever you're hauling from spilling or breaking.
Lookout for vulnerable drivers: Such as campers, motorcyclists and broken down vehicles on the shoulder.
According to the National Highway Traffic Safety Administration (NHTSA), for the past six years, the Memorial Day holiday weekend has averaged 11.5% more traffic fatalities than similar non-holiday periods.
In Michigan, there were five car accident fatalities over the Memorial Day holiday weekend in 2013 – five less than in 2012, according to preliminary reports from the Michigan State Police. This is especially one of the most traveled weekends in Michigan, as many people hop in the car for road trips "up north."
David has driven more than 2.5 million preventable collision-free miles over the course of his impressive 20-year professional driving career.
Here's to the good truckers and a safe Memorial Day weekend for all.  David, you've earned it.
Related information: