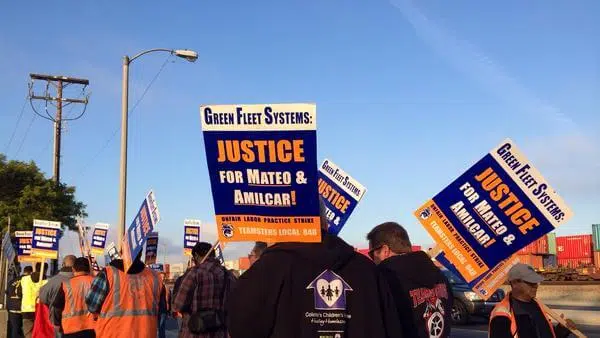 I recently wrote about requests for help that I often receive from truck drivers who are pressed by their safety managers to break Federal Motor Carrier Safety Rules (FMCSRs).
In so many of the commercial motor vehicle cases I litigate as an attorney, I sympathize for the defendant trucker who caused the crash.  Yes, it's the truck driver who causes the crash, but he or she is often made the fall-guy by the trucking company. In reality, it's the trucking companies who are really to blame. They threaten our safety by pushing drivers to disregard Hours of Service regulations, skip pre-trip inspections, and speed – all to get loads to destinations quicker and to turn over a higher profit.  Then, when the inevitable happens, and a seriously fatigued trucker falls asleep and smashes his truck into the back of a car and causes some horrific truck accident, the trucking company and its lawyers blame the driver – while doing  everything they can to hide all of pressure they put on the driver.
When trucking companies threaten truckers to break the law or lose their jobs, truck accidents are inevitable.
But when the case reaches my hands as I'm helping an injured truck accident victim or the family of a deceased driver, I know it is often the employer trucking company and safety management that's often pulling the strings and threatening the drivers that in turn cause the crashes.  In far too many instances, a trucking company's safety director seems more concerned with finding ways to help truck drivers violate mandatory safety rules and regulations than he or she is in making sure they are followed.
Truck drivers can report motor carriers to the Department of Transportation. And they're protected by the Surface Transportation Act, which provides whistleblower protection for drivers and employees who want to report FMCSR violations.
Now, a group of Los Angeles truckers are striking – in part to protest being pushed to break the law.
There was recently a two-day strike by truck drivers that haul cargo out of the ports of Los Angeles and Long Beach.
It was the drivers' largest demonstration to date, with more than 100 truck drivers picketing at three trucking companies and following trucks from those companies as they pick up cargo from the nation's largest port complex, according to an article from the Los Angeles Times, "Port truck drivers launch strike to protect alleged labor violations.
The drivers, backed by the Teamsters Local 848 union, alleged widespread workplace violations. Justice for Port Truck Drivers, the union-backed group organizing the strike, has accused trucking companies of wrongfully classifying truck drivers as independent contractors, a classification that denies drivers workplace protections such as mandated work breaks.
This is the other big trend I see as a truck accident lawyer.  Many trucking companies are doing everything they can to change the classification of their drivers from employees to independent contractors.  These truckers, many of whom who own a tractor-trailer and work for several companies on an as-needed basis, also operate in "bobtail mode," which means they have no trailer attached to the tractor, but may or may not be under dispatch to a trucking company.
But classifying a trucker as an independent contractor when in reality, he works for a trucking company is not only wrong and illegal, it's hazardous.  It's also, ironically, why I find myself helping to refer so many truck drivers injured on the job to experienced workers compensation attorneys who know and can navigate between the law and the legal fiction of making truckers into independent contractors (hint: something every attorney who practices in this area of law should know!).
Truckers being pushed into independent contractor status are also pushed into precarious positions. If they're denied workplace protections like mandated work breaks, then they're likely to drive past Hours of Service under direction from the trucking companies.
That's why, in a legal seminar I gave last year to the Belli Society on picking juries and voir dire in truck accident cases, I told the attorneys not to believe that having truckers on your jury is always bad in a truck wreck case. Often, especially if the truckers are teamsters/union drivers, they are strong advocates for making sure that mandatory safety rules are enforced.  Otherwise, the drivers who break the rules have an advantage on price over the truckers and companies who follow the rules.
It is my hope as an attorney and truck safety advocate that the strike yields some safety reforms in the various California truck companies — and sets an example for truck companies throughout the nation.