Wireless inspection technology flags dangerous trucks for  safety inspections — a promising  development that will reduce truck accidents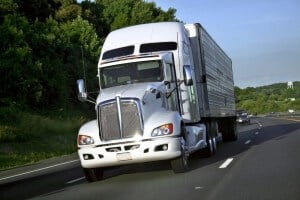 The Federal Motor Carrier Safety Administration (FMCSA) is testing wireless technology that would actually inspect trucks remotely.  What an incredible idea, as today almost all inspections occur as a result of a  a traffic stop – or after a terrible truck accident has already occurred.
As only a fraction of dangerous, out of service trucks are actually stopped and inspected, this development has the potential to save thousands of lives and prevent hundreds of crashes.
I have to admit, it sounds closer to a science fiction movie that takes place in the future than it does to reality. Wireless inspections are envisioned as lighting fast.  The techonology would simply allow a compliant truck driver to continue on the road, while flagging and stopping the non-compliant truckers.
No investigators needed.
This is part of the FMCSA's ongoing efforts to improve safety and weed out the dangerous trucks through closer inspections. The FMCSA says it's aiming to improve quality and efficiency. Currently, inspections are conducted by federal or other government inspectors.
Testing will occur over the next three years on a study group of about 1,000 trucks and 2,400 miles of roads spanning Kentucky, Tennessee, North Carolina, Georgia and Mississippi.
It cannot come soon enough to Michigan.
Here's how the technology will work, according to the FMSCA:
The wireless system will process data from a transmitter in the truck. The information is sent to the inspection facility, federal and state databases, and the motor carrier itself. Truck drivers who are non-compliant will receive a message to the operations center, and then on to the truck driver that says either:
Turn into an inspection area; or

Continue on the way!
All of this will occur in a "geofence area," which is comprised of trigger points for the wireless system on the highway. Once the drivers enter the geofence area, data immediately starts to transmit to the operations center. The operations center then interprets this information (including driver credentials), truck information and hours of service and data pertaining to the carrier's information.
In addition, all of the data is transmitted to inspection officials and to FMCSA's Safety Measurement System (SMS) for tracking. It will also be added to the Compliance, Safety, Accountability (CSA) system, which scores carriers and commercial drivers in the areas of driver fitness and hours of service compliance.
As of now, it's unclear how exactly the message to the trucker will be relayed. One idea is that trucker may be notified via stoplight: A red light would tell the driver to stop, green would mean continue, while yellow indicates that the data is insufficient (or some other error, requiring the trucker to stop).
The concept of wireless inspections is quite amazing and a promising  new safety development, as long as it's properly implemented and fully functional. This could be a great way to streamline the good truckers who are compliant, and weed out and scrutinize the bad trucking companies and dangerous truck drivers who cut corners on safety.
As a past president of the American Association for Justice Truck Accident Lawyer Group, the renewed interest being taken by the FMCSA to more aggressive inspections and ways to promote greater truck safety today is also very welcome news indeed.
Related information:
Why is the pre-trip inspection the most violated safety rule in truck accident cases?