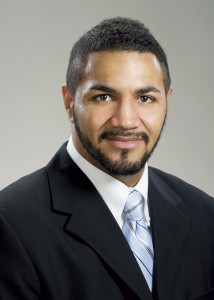 Jordan Jones is the latest addition to the Michigan Auto Law team.
Jordan started off at the firm as a law clerk, and he's hit the ground running faster than perhaps any new personal injury attorney in Michigan.
Jordan already assisted me with the top truck accident jury verdict in Michigan last year.   He worked tirelessly on briefs and motions before and throughout the trial.
Jordan was also a part of the team that earned the top-reported truck accident verdict in Michigan in 2012 (according to published reports of the top verdicts and injury settlements from Michigan Lawyers Weekly, not me). In this case (which I also handled), a Macomb County jury awarded a $2.55 million verdict to the surviving family of our client, an elderly man who was hit and killed by a commercial truck while riding his bicycle. In that case, the insurance company only offered $250,000, contending an 83-year-old man's life wasn't worth any more. Fortunately, the jury disagreed.
Jordan was invaluable, and helped to write the responses to the evidentiary issues and motions in limine before and during the trial.  Finally, just months later, Jordan assisted me and trial attorney Tom James in a very serious car accident trial in Clinton County, Michigan.  Jordan was present in the courtroom for most of the trial and helped immensely throughout.
Jordan has a sub-specialty here at the law firm of serious truck accident case investigation. He has a strong belief that the only way to make dangerous truck and bus companies more safe is to hold them accountable for every injury and safety violation they've negligently caused. And the only way to do that is through extensive legal discovery and analysis in litigation.
What makes Jordan shine, however, is that people and clients immediately comfortable with him.  Jordan has a warm, compassionate demeanor.  He's fantastic with clients, because he genuinely cares and it shows. Jordan also prides himself on providing excellent communication. His  highest priority is making sure his clients are completely satisfied, and that they receive the best possible results.
This caring about people also shows in his prior legal experience.  Prior to joining Michigan Auto Law, Jordan worked for the Free Legal Aid Clinic, Inc., in Detroit, and also served on its Board of Directors.
Jordan hails from Canada and graduated from Wayne State University Law School in Detroit, where he earned Cum Laude honors. Jordan also received many other honors and scholarships while in law school, including the Merit Scholarship, the Bronze Key for Academic Achievement, the Lewis Rockwell Endowed Scholarship, the Raymond Kress Scholarship.
When he's not helping people, he's probably pounding a heavy bag somewhere.  Jordan is also an accomplished amateur boxer.
Defense attorneys, watch out!