U of GA student survived a serious crash and is now an aspiring law school student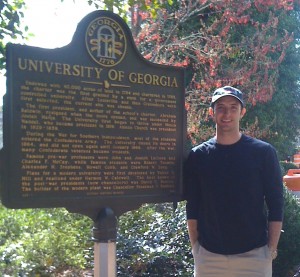 Michael Alfano of Georgia wants to be one of the good injury attorneys. The aspiring law school student is ready to take his experience recovering from a serious car accident with a disingenuous attorney – and make it right by doing for others.
Michael is the second winner of our annual Michigan Auto Law Car Accident Injury Survivor Scholarship.  Our attorneys have been helping people injured in automobile accidents in Michigan for more than 60 years.  We started this scholarship for students who have had to overcome life-changing obstacles caused by auto accidents.
Michael, currently a University of Georgia student, was injured in a crash in December of 2009 during his freshman year of college when his car was T-boned by a utility van.
He suffered a torn ligament in his knee and the top half of two fingers on his right hand were amputated due to severe burns. In excerpts from his scholarship essay, Michael discusses how his injury and interaction with lawyers played a big part in influencing his career aspirations:
"…My hope for a quick and easy recovery however soon vanished and I ended up slogging through an entire year of pain of my fingers which intensified when I went into occupational therapy to desensitize the new skin on my index and middle digit.  I realized that "recovery" and "being made whole" could have widely disparate meanings inside and out of the legal context.

When I got home from the hospital, I met a lawyer to represent me in my personal injury negligence claim.  I was disappointed in the seeming lack of emotional investment my attorney had with my case…his clear lack of genuine empathy took away from my satisfaction in his work.  I would have wanted a lawyer who understood the hardships and emotions I experienced.  I saw the role of a personal injury lawyer as one who not only was an effective technical advocate, but also who would be aware of the emotional and physical vulnerabilities associated with their clients.

I now have a passion to improve my reading and writing skills in college and become a lawyer.  My accident has changed my life, but I will try to use my misfortune for good to help others receive compensation and empathy from a lawyer who has been in their shoes.  I can show other victims that life isn't over after a traumatic car accident and that anyone can turn their situation into an inspiration for others."
Michael's experience with lawyers after his accident was a catalyst for a career change to help others and improve the legal profession.  This is also great reminder for personal injury attorneys  that our clients' emotional needs are just as important as their needs to receive fair compensation and move forward with their lives.
You can also see a live interview with Michael and our own Brandon Hewitt in this Google Hangout:
Take a look at our webpage for more information about our Car Accident Injury Survivor Scholarship.
Related information:
Michigan Auto Law Car Accident Injury Survivor Scholarship 2017 winners named
Our 2014 Car Accident Injury Survivor Scholarship winner: Shaquana Snyder of Detroit