Chart shows similarities and key differences between the "reform" plans backed by Gov. Snyder, House Speaker Bolger and Sen. Pappageorge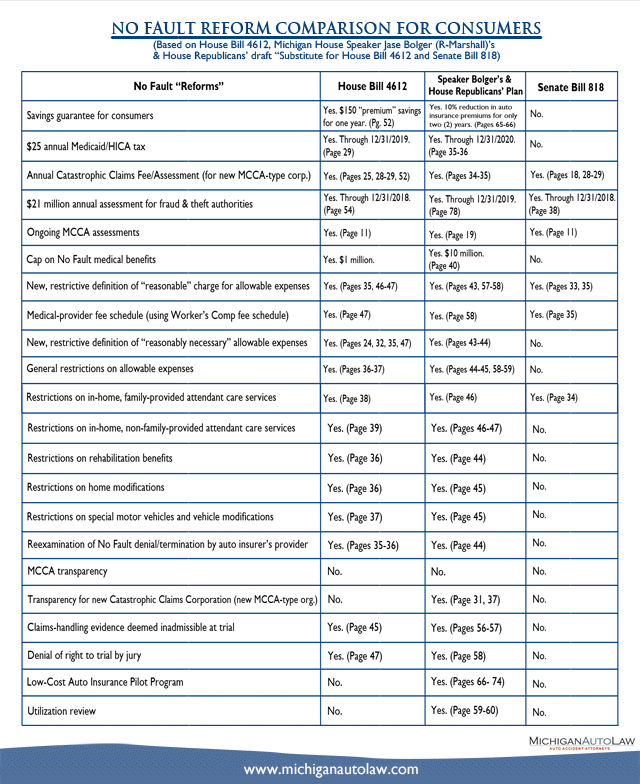 This past month, Michigan's No Fault insurance laws were in the cross hairs, with plans introduced to drastically change parts of it introduced by House Speaker Jase Bolger and Sen. John Pappageorge. I've put together an informative chart that compares the similarities and big differences between the different proposals (including the earlier plan strongly backed by Gov. Rick Snyder and Rep. Pete Lund).
The plans I compared include:
House Bill 4612 – Introduced April 2013 by Rep. Pete Lund (R-36th District) and strongly backed by Gov. Rick Snyder.
"Substitute for House Bill 4612″ – House Speaker Jase Bolger (R-Marshall)'s and the House Republicans' draft, which has not yet been introduced.
Senate Bill 818 – Introduced February 25, 2014, by Sen. John Pappageorge (R-13th District).
The chart compares the specifics of the three Republican-sponsored No Fault insurance reform plans that are currently on the table and being considered officially and unofficially by the Michigan Legislature.
After seeing what the insurance industry lobby is proposing, funded through campaign contributions to certain lawmakers, you may conclude – as I have  – that you're not buying it.