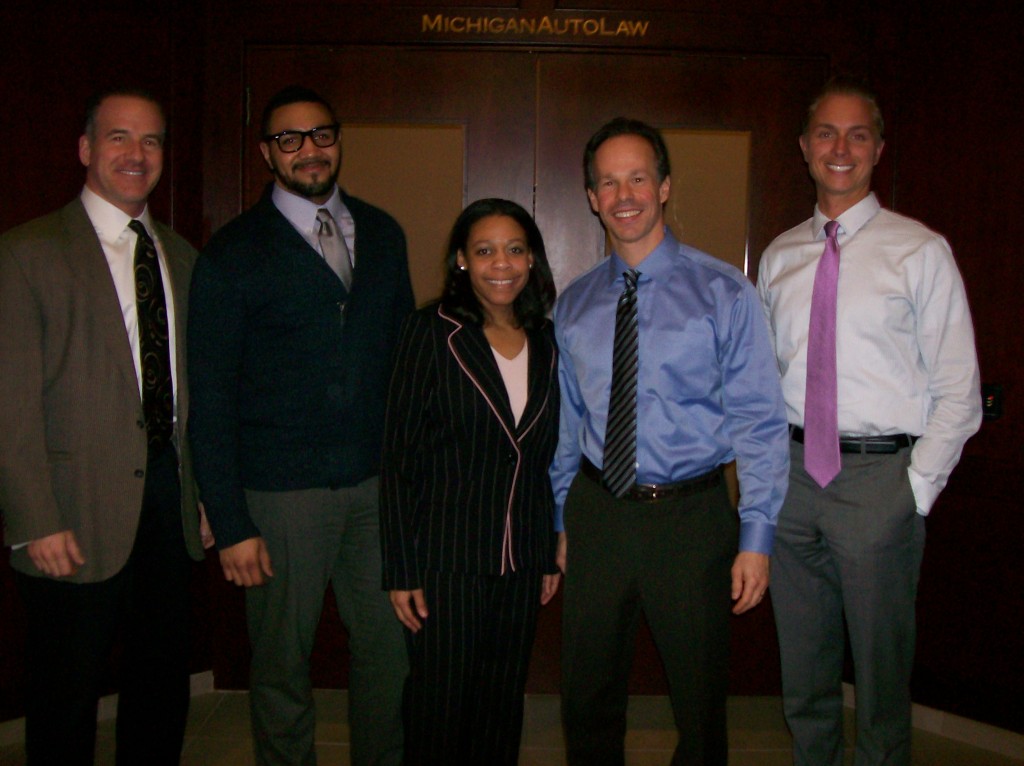 Today I'd like to honor Shaquana Snyder of Detroit.
Shaquana is an intelligent and inspiring  first year law school student. And she is the winner of our annual Michigan Auto Law Car Accident Injury Survivor Scholarship.
Our attorneys have been helping people injured in automobile accidents in Michigan for more than 60 years.  We take great pride in helping good people. That's why our attorneys started the scholarship for students who have had to overcome life-changing challenges and obstacles caused by auto accidents.
Shaquana was injured in a crash in October of 2006 on a busy freeway in Detroit.  She began pursuing a law degree at the University of Detroit Mercy School of Law in the fall of 2013.
Shaquana was a passenger in a friend's car when a semi truck crashed into their vehicle, pinning their car under the truck's trailer. Local emergency crews had to use the jaws of life to remove her from the area underneath the glove compartment.
Due to the way her body was leaned over upon impact, Shaquana was left with a spinal injury and shards of glass in her elbow. In excerpts from her scholarship essay, Shaquana highlights both the physical and emotional impact her accident had on her life:
"I was told that I would have to have surgery on my back and wear a body cast for some time.  I refused the surgery and prepared to physically heal through alternative healing methods and chiropractic care.  Nothing prepared me for the mental and emotional injuries I would later suffer.  It amazes me that when speaking to auto accident survivors, people first ask about the physical injuries, never the mental and emotional aftermath, which is where my injuries were most severe.  Not being able to do my martial arts training or fulfill my duties as a teacher – I felt that all of the things that defined me as a person were taken away.

I developed a severe driving anxiety where I would have panic attacks as well as suffering from depression as I felt the accident took away my drive, motivation and sense of security.  My life became lackluster and I moved about as a zombie.  I was laid off and eventually had to file for bankruptcy.

I had to make some drastic changes to save my life or else surviving the accident would have been for nothing.  I was able to complete my Masters degree and get accepted into law school this past fall.  Now I feel better physically but am not fully healed.  I still suffer from driving anxiety, especially any time a truck passes by.  This essay has allowed this nameless and faceless auto accident survivor to have a voice and to encourage others like myself to talk to someone about what happened and more importantly talk about their feelings before life spirals out of control.  I would also encourage others to spend as much time and care on the emotional well-being as the physical.  One cannot assume that a person is doing well because they have healed physically as there are many layers to survival after an auto accident."
None of this was easy to overcome.  And that is why Shaquana is our 2014 scholarship winner.
I personally am glad to have met her, and I know she will make an outstanding attorney.
Whether that is pursuing veterans' benefits, JAG, or an entirely new area of law once she starts her judicial clerkship next week at Oakland County Circuit Court, I know she will rise to the challenges and meet them head-on.
Watch this month for an announcement on the other winner of our Car Accident Injury Scholarship.
Visit our webpage for more information about our Car Accident Injury Survivor Scholarship.