Substitute for HB 4612: A law that strips accident victims of jury trials is only a law that an insurance company could love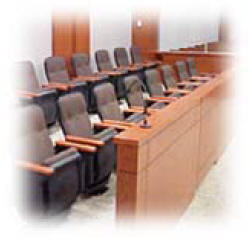 House Speaker Jase Bolger isn't very  familiar with the No Fault law as it currently exists, as evidenced by a recent conversation I had with him online in response to his editorial in The Detroit News on his proposed No Fault insurance "reform" plan.
Sadly, it looks like the Republican speaker and his press secretary aren't very familiar with the Bill of Rights and the United States Constitution, either.
But familiar or not with the Michigan No Fault law, Speaker Bolger aims to restrict auto accident victims' right to a jury trial in his 91-page draft plan, "Substitute for HB 4612."  
The insurance companies could not be happier.
Of course, this makes sense, since it is immediately apparent that a huge part of this new "No Fault Reform Plan" was written by lobbyists for the state's automobile insurance companies. Here's an earlier post I wrote that balances the benefits to consumers with the losses they will suffer if this plan to change the No Fault insurance laws in Michigan becomes new law.
Under our existing No Fault law, injured auto accident victims still have their constitutional right to a trial by jury as to whether an auto insurer justly denied and/or terminated their No Fault benefits (although, as I said, Speaker Bolger incorrectly believed otherwise).
Tragically, Speaker Bolger and House Republicans decided to "remedy" that situation by proposing the following changes to make it far more difficult for auto accident victims to mount successful challenges to the denial and termination of their No Fault benefits (page numbers refer to the full draft bill):
Auto accident victims have no right to a jury trial on issues concerning whether charges were "reasonable" and/or whether products, services or accommodations were "reasonably necessary." (Page 58)
Evidence of how an auto accident victim's No Fault claim was "handled" by the auto insurer  "is not admissible at the trial of an action to recover benefits." (Page 56-57)
This means that how an insurance company and a claims adjuster treated its own insured customer, and how it made that person and medical provider suffer through months or years of delay, would not be admissible.
It is, in short, only a law that an insurance company could love.
Tomorrow, I'll review how "Substitute for HB 4612" creates a "witch hunt"-type of atmosphere for doctors, hospitals, therapists and other professionals who treat auto accident victims.