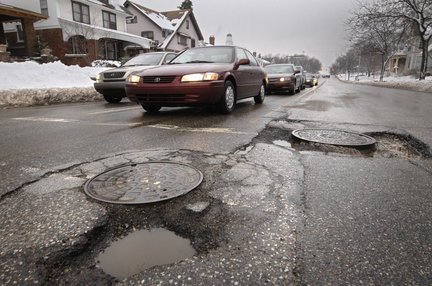 As our roads become ever more pocked with deep potholes, many drivers are wondering what to do as they bump along.
Road crews have been working overtime to repair the giant potholes that are appearing everywhere.  As immense piles of snow from the most miserable winter I can remember melt and then freeze again and again, there are more and bigger potholes causing all sorts of havoc. This includes everything from flat tires to major car damage to serious automobile accidents as people dodge the  potholes and steer into into oncoming traffic.
And now there's pending legislation that would allow Michigan to spend $100 million more this year, in part to repair the influx of potholes due to the extreme winter season.
State and government officials are warning of a pothole emergency.
But the additional $100 million – which would be added to the $230 million portion of the state transportation budget for the roads – is good and bad news for road agencies, according to a recent story on Detroit CBS Local, "Michigan Panel Plans $100M For Plowing, Potholes."
Under the legislation, Michigan road agencies would receive emergency help. Keep in mind, Detroit,  Grand Rapids, and Flint have all had record-breaking winters this year, according to the National Weather Service. But the aid would come from  funding that would have otherwise been allocated to longer-term road projects instead of to pothole maintenance, says CBS News.
And everyone has an opinion.
How do you want to deal with fixing the potholes?
How does this get paid? Should tax payers be responsible via the state budget? Or should the state go as far as to consider making toll roads to help pay for the extensive pot hole damage?
Let us know by making a comment below, or on our Michigan Auto Law Facebook page.
Where the heck do potholes come from, anyways?
According to MDOT, there's a good explanation:
Potholes occur when snow and ice melt as part of Michigan's seasonal freeze-thaw cycles. The resulting water then seeps beneath the pavement through cracks caused by the wear and tear of traffic.

As the temperatures cool to freezing at night, the water becomes ice and expands below the pavement, forcing the pavement to rise. As the weight of traffic continues to pound on this raised section – and the temperatures once again rise above freezing – a shallow divot occurs under the surface and the pavement breaks, forming a pothole. A pothole is typically fixed by cleaning out the loose debris and filling it with hot and cold asphalt patch.
You can report a pothole to the state by calling  (888) 296-4546. FYI, most state roads begin with M, I or US designations (e.g., I-75, M-28, US-23, etc.).
Pothole safety tips
While we're discussing the major annoyance, and in some cases serious threat from potholes,  our attorneys wanted to share some tips on how to avoid car accidents caused by  potholes.
Next to an actual car-on-car accident, the sound of your vehicle making a hard hit on a pothole is one of the most unforgettable, off-putting noises you will ever hear. You also have to think about your car's tires, chassis, suspension and rims — all of which can be compromised after a serious encounter with a pothole.
The good news is, you can follow these simple safety tips to avoid an accident caused by a pothole:
Do not veer into another lane of oncoming traffic to avoid a pothole. Very similar to the danger posed by deer (don't veer for deer), you have to consider it is a lot worse to drive head-on into an oncoming semi truck or car going the speed limit, than it is to hit that pothole.
Beware of puddles. There can be massive potholes looming under puddles, sometimes even large enough to do severe damage to your vehicle.
Grip your steering wheel tightly. Firmly hold your steering wheel at 10 o'clock and 2 o'clock, for optimal control of the vehicle, as a pothole can send enough of a shock through your steering system to propel your car into the next lane.
Don't brake: It might sound counter-intuitive, but hitting your brakes just before a pothole is dangerous. Instead, slow down as much as possible if contact is inevitable and let off the brakes the moment before you hit the pothole, allowing the car to absorb the blow.
Related information:
Auto accident lawyer gives his best winter driving tips
 – Photo courtesy of MLive