Existing No Fault cost-controls ensure that auto insurers "pay no more than a reasonable charge," as former Michigan Supreme Court Justice Clifford W. Taylor has said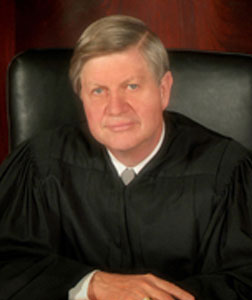 There is very little that I would probably ever agree on with former Michigan Supreme Court Justice Clifford W. Taylor. To the public, he is best known as the "sleeping Judge." But to the state's lawyers and judges, he's associated with a darker side.
Cliff Taylor's reign on the Michigan Supreme Court marked a low point in respect for the Court by the legal community, and of divisiveness and bitterness within the Court. He and three other activist Republican justices were called (by Republican Justice Elizabeth Weaver) the "Gang of Four." During his tenure, the Court was marked by politically-motivated and outcome determinative rulings without regard to stare decisis, or, in the minds of many attorneys such as myself, towards fairness and justice at all.
In other words, Justice Taylor was no friend of the consumer or the injured.
And that makes his sharp rebuttal to Speaker Jase Bolger's proposal for "fee schedules" – as part of his No Fault insurance "reform" plan – so important.
As to the existing effectiveness of No Fault "cost controls," here's what the former Justice said in McGill v. Automobile Association of Michigan (Michigan Court of Appeals, 1995):
"The No Fault cost-control statutes, which represent "insurance companies' cost-policing function as contemplated by the no-fault act," "clearly indicate that an insurance carrier need pay no more than a reasonable charge and that a health care provider can charge no more than that."
In other words, Speaker Jase Bolger's proposal for a medical-provider "fee schedule" already exists.
Speaker Bolger's proposal, on the other hand, which go far beyond the already effective cost-containment policies that already exist in the Michigan No Fault law. Instead, they would:
Restrict doctors' and hospitals' charges for treating auto accident victims to 125% of the rates charged to injured workers (per the workers compensation fee schedule).
The insurance industry in Michigan never had a better friend on the Michigan Supreme Court than Cliff Taylor (although current Justice Robert Young might be a very close second). But as the former Chief Justice already observed, the existing cost controls that were long ago built into Michigan's No Fault law make Bolger's proposed medical provider "fee schedule" unnecessary.
To the extent the amounts charged by No Fault medical providers are higher than what auto insurers want to – or think they should have to – pay, the No Fault auto insurers have no one but themselves to blame. Another prominent Republican, L. Brooks Patterson, had this to say on why the No Fault insurance companies are the ones truly responsible. It starts with their own reprehensible conduct in how they treat, and pay (or more often fail to pay) medical bills submitted to them by doctors and hospitals that render medical care to injured auto accident victims.
Speaker Bolger's cost containment controls already exist
Built into Michigan's No Fault law are all the cost controls – and the authority to use them – that No Fault auto insurers need to keep No Fault medical costs low.
When the Legislature enacted the No Fault Law 40 years ago, lawmakers included the following specific cost control measures for the express purpose of empowering No Fault auto insurers to manage No Fault medical costs:
No Fault insurers were required to pay No Fault medical benefits to cover only "reasonable charges … for reasonably necessary products, services and accommodations for an injured person's care, recovery, or rehabilitation." (MCL 500.3107(1)(a))
Physicians and hospitals who treat auto accident victims could charge only a "reasonable amount for the products, services and accommodations rendered." (MCL 500.3157)
A physician's or hospital's "charge" could "not exceed the amount the person or institution customarily charges for like products, services and accommodations in cases not involving [No Fault auto] insurance." (MCL 500.3157)
If so requested by an auto accident victim's No Fault auto insurer, the victim's treating physician, hospital or clinic must provide to the insurer a "written report" as well as the records documenting the "costs of treatment of the injured person." (MCL 500.3158(2))
"In a dispute regarding an insurer's right to discovery of facts about an injured person's … costs of treatment, a court may enter an order for the discovery." (MCL 500.3159)
For more information (and case law references) about No Fault cost-controls, please check out Michigan Auto Law's blog post, "Auto insurance companies fail to use cost controls built into Michigan's No Fault Law."
In my next installment of the blog post series next week, I will discuss why capping No Fault medical benefits will not guarantee savings for Michigan auto insurance consumers.