Temporary savings, permanent benefits cuts, MCCA secrecy, unused cost-controls & discrimination against poor plague latest plan to dismantle No Fault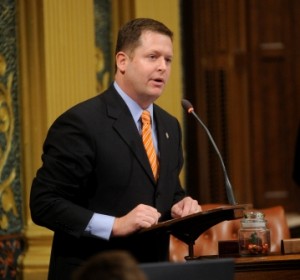 Last Thursday, Michigan House Speaker Jase Bolger (R-Marshall) introduced his new plan for No Fault "reform," stating that it's "compromise" legislation to No Fault House Bill 4612.
But there are very good reasons to say "No" to the latest plan to dismantle No Fault.  Top of my list is the fact that, overall, auto insurance consumers stand to lose a lot more than they'll gain, while the reverse is true for auto insurance companies.
Michigan's No Fault system, with the essential protections and benefits it guarantees to seriously and catastrophically injured auto accident victims, is too important to be "reformed" in the manner suggested by Speaker Bolger.
To address the shortcomings of Speaker's Bolger's plan (which was verbally shared with the media, but no written, detailed plan has been released to the public), I will be sharing a series of blog posts discussing my top 6 reasons for opposing this latest auto-insurance industry-backed effort to dismantle Michigan's No Fault auto insurance system.
In today's blog post, I wanted to identify the main points of Speaker Bolger's plan and lay out my reasons for why lawmakers – and the public – should say "No."
Here's what Speaker Bolger has proposed:
A two-year 10%  auto insurance premium reduction.
A "new a subset of the MCCA [Michigan Catastrophic Claims Association]." (Per MLive's Jonathan Oosting)
A medical-provider "fee schedule" that would restrict doctors' and hospitals' charges for treating auto accident victims to 125% of the rates charged to injured workers (per the workers compensation fee schedule).
A $10 million cap on No Fault medical benefits, replacing the existing guarantee of reasonably necessary and reasonably priced lifetime No Fault medical benefits.
A low-cost No Fault auto insurance option, with a $50,000 cap on No Fault medical benefits, for individuals who earn up to 133% of the federal poverty level, e.g., approximately $15,000 per year.
Here are my Top 6 reasons for opposing Speaker Bolgers' so-called No Fault "reform" plan, which will be reviewed throughout the week:
Included in the blog post series this week will be proposals for consumer-oriented No Fault reform, which are geared toward improving both No Fault's benefits and protections and No Fault's ability to provide meaningful and long-term savings for auto insurance consumers.
In tomorrow's installment in the blog post series, I will discuss why the proposed "savings" in Speaker Bolger's so-called No Fault "reform" plan are a raw deal for auto insurance consumers.