NHTSA data shows more truck crashes, including increases in multi-vehicle accidents and deaths among occupants of cars involved
Innocent people are being killed in completely preventable truck accidents  every day. And it's  getting worse.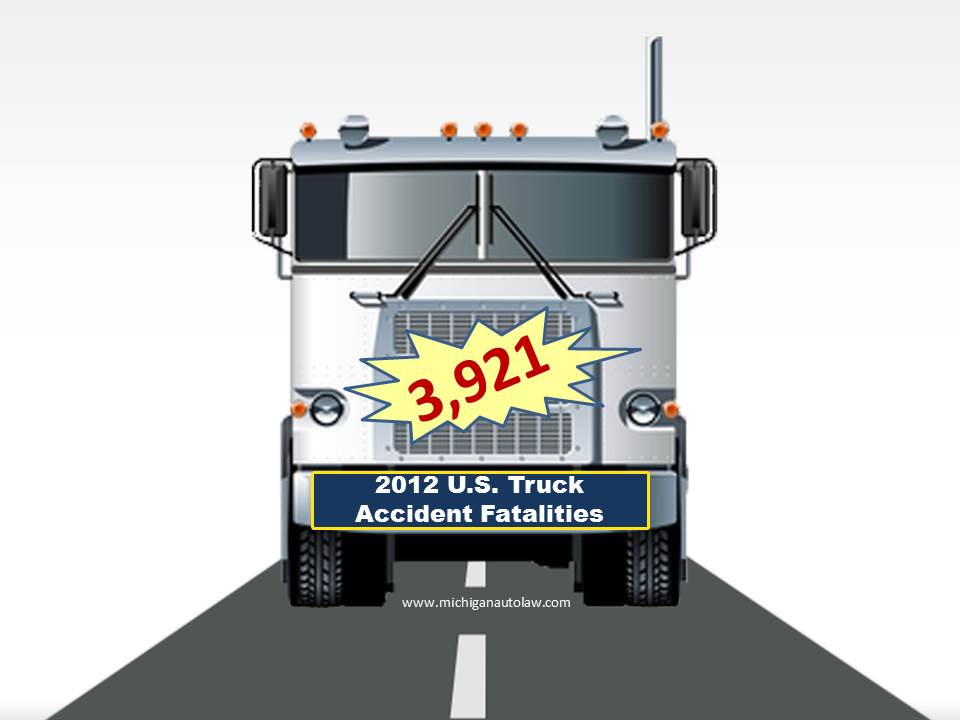 This may sound harsh, but the numbers don't lie.
According to a recent report from the National Highway Traffic Safety Administration (NHTSA):
Fatalities from serious truck accidents increased by 3.7% from 2011 to 2012.
In 2012, there were 3,921 fatalities resulting from semi-truck wreck, compared to from 3,781 people who were killed in 2011.
This is the third consecutive year that truck accident fatalities spiked, since hitting a low in 2009.
What's even more tragic is that most of these truck wrecks are absolutely preventable.  In most of the cases I litigate as an attorney, it's because many truck companies choose to cut corners on safety for a bigger bottom line.
This means they choose to hire drivers who have a history of past accidents, or dangerous medical conditions, or past criminal drug addictions (which surprisingly do not automatically disqualify drivers), because they're cheaper to employ than experienced drivers with an exemplary safety record. Truck companies also skimp on training for these truckers. And then when they hire drivers, they push them to drive past Hours of Service (HOS). They do not maintain their fleets, and so their trucks are like ticking time bombs on our roadways, often with bad tires, defective brakes and a slew of other dangerous mechanical issues.
But the bad news doesn't stop here. Truck accidents involving multi- vehicles also rose — to the tune of 18%.
Because of this,  more innocent drivers continue to be injured and killed in these preventable truck accidents.
The NHTSA data stated that among all fatalities caused by truck crashes, the vast majority were the occupants of other vehicles:
Drivers in other vehicles accounted for 2,843 of all the 3,921 truck wreck deaths.
In other words, that's approximately 72% of innocent occupants of other vehicles who were killed due to negligent trucking companies.
Furthermore, the number of other occupants killed rose by nearly 5% since 2011.
So what can be done about this crisis?
Well, the trucking industry chooses to gloss over the deadly issue by simply criticizing the NHTSA data. The American Trucking Associations (ATA) President, Bill Graves, said the data "paints an incomplete and misleading picture of the nation's trucking industry."
What utter nonsense.
As a truck attorney for nearly two decades and a truck safety advocate, I've served as President of the American Association for Justice Truck Accident Lawyer Group, and I'm very familiar with the ATA position on these matters, since I used to lobby politicians and regulators to pay more attention to truck safety. Remember, the ATA is the lobbying arm of the truck industry. Although it's egregious and upsetting, it's not surprising that the ATA would take this silly position.
But it would be beter if the ATA and other big players in the trucking and commercial transportation industry could at least admit a problem exists, even if they disagree on ways to solve it. It would be even better to have a willing partner in helping prevent truck accident fatalities by pushing for stronger safety measures and penalties for breaking Federal Motor Carrier Safety Administration Regulations. It would save lives.
I've previously written about issues like increasing insurance policy limits in truck accident cases. Taking such a measure would actually  save money and keep safe companies running and delivering goods on a more even playing field with the bad actors who abuse the system.
I'm proud that in the past I've been named a Michigan Lawyers Weekly "Leader in the Law" for my efforts in lobbying to make our roads more safe. Aside from talking to legislators about stronger laws and making the public aware of the crisis involving dangerous truck companies, the other way to hold trucking companies accountable is in the courtroom. This includes aggressive legal discovery by exposing every negligent action that led up to the truck wreck that took an innocent life.
Even without the big stick of punitive damages to deter large trucking companies from repeating their mistakes in states like Michigan, the verdicts and settlements that I've been fortunate enough to recover on behalf of my injured clients and their families when someone was killed by a truck driver, often serves as an important deterrent.
But lawyers become involved  after the truck accident – after someone has been killed or injured. And by then, it is also too late for the families involved.
There is a much larger role for the commercial transportation industry to play.
But first they have to admit something is wrong.