Connecticut passes "Ice Missile Law" to prevent car crashes caused by snow falling from cars; should Michigan be next?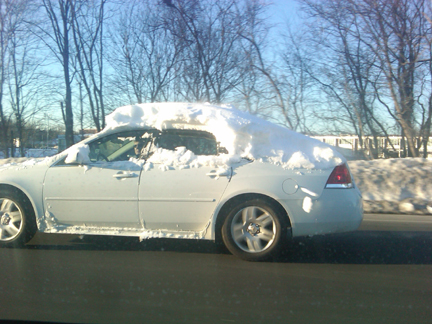 This  "Arctic Blast" has not been kind to Michigan. As we're experiencing more below-zero temperatures this week, driving continues to be a frigid, slow, and sometimes white-knuckled challenge.
One thing that adds to white knuckles on the steering wheel is the cars on the road that seem to have crazy amounts of snow and ice on the roofs after every big snow. And of course, the worst of these cars and trucks always seem to be driving directly ahead of me.
This is dangerous, and as an attorney, I've litigated cases where huge chunks of snow and ice have fallen and caused a serious car crash – hence the name that some people give to these cars with huge amounts of ice and snow on the roof  – "ice missles." We've all seen them… barreling down I-75 or I-696 with 16 inches of snow or more on the roof, and we've all been praying it doesn't slide down and get  dumped right on us.
But maybe there's something the legislature in Michigan can do – if they follow the lead of an interesting new law recently passed in Connecticut.
In the works for over four years, the Connecticut legislature has instituted a new "Ice Missile Law"  that requires drivers to clean off all the snow and ice from their cars before driving.
The law says that drivers "shall remove any accumulated ice or snow from such motor vehicle, including the hood, trunk and roof of such motor vehicle, so that any ice or snow accumulated on such vehicle does not pose a threat to persons or property while the vehicle is being operated on any street or highway…"
Those who do not clear their cars can be stuck with a $75 fine. And if the ice or snow from a non-commercial vehicle happens to cause personal injury or property damage, the penalty can jump up to $1,000. Commercial vehicles –  including semi trucks and buses – that fail to clear their vehicles of ice and show face fines of $500 to $1,250 if any damage is caused.
We know that people who fail to clear off their cars and trucks are causing traffic accidents and all sorts of anxiety for others on the roads.  And the good news is, it's simple to prevent a car accident due to ice and snow on your vehicle. You just have to know the correct ways to remove it.
Here are some tips for removing large amounts of ice and snow from your vehicles this winter:
Snow:
Don't use a shovel: If you use a shovel to remove snow from your car, the edges can get too close to the surface and leave scratches and gouges.
Use a method designed for automotive snow removal: Such as SnoBrum, which has a foam head for snow removal.
Ice:
Only use your ice scraper for the windows and windshield: The hard plastic is too aggressive to be used on the surface.
Don't use hot water to melt the ice off of your windshield: The sudden change of temperature cause the glass to crack or shatter.
Remove large chunks of ice with your hands: Don't push the ice off the car, as the bottom of the sheet will slide and leave fine scratches.
Melt the ice: By turning your vehicle on and letting it warm up.
Other states with similar "ice missile" laws
Several other states have similar laws, according to a recent article in USA Today, "Ice missile'  law hits driver who don't remove snow":
In New Jersey, drivers can be fined $25-$75 for failing to remove ice, and $200-$1,000 if the ice dislodges and causes injury or property damage.
In Pennsylvania, drivers can be fined $200-$1,000 if snow or ice flies from their vehicle and strikes another vehicle or pedestrian, causing death or serious bodily injury.
Washington allows police to stop drivers for traveling with accumulated ice on their vehicles, but there is no fine for the offense.
Well, as I type the words of this blog and look out the window at the snow and mess outside, here's to Michigan adopting its own "Ice Missile" law!
Related information: