Attorney Steven Gursten explains how we can protect society and preserve the rights of elderly drivers on Fox 2 Detroit "Let it Rip"
I was a guest legal commentator last Thursday on Let it Rip on Fox 2 Detroit News, where the topic of  elderly driving and how old is too old to drive was discussed. Here's the segment:
Sadly, the debate about older drivers came up again following the tragic death of 88-year-old Lorriane McKaig of Livonia.  News reports indicate she was driving to her favorite restaurant, but got confused due to a detour, and was finally found unresponsive all the way on Detroit's east side, in the frigid temperatures (see The Observer & Eccentric, "Livonia woman found near Detroit airport died of natural causes, medical examiner says"). Mrs. McKaig later died, and her tragic death has people wondering, if she was that confused, should she have been allowed to drive? And if not, would she still be alive today?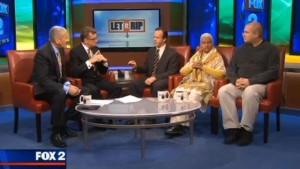 As a lawyer, I've litigated these cases involving terrible car accidents caused by older drivers who became confused.  And I've also spoken at legal seminars and written about representing the elderly when they're injured in car accidents, when the defense too often attempts to devalue these people and says their pain and suffering is worth less because of their advanced age.  I've certainly seen both sides of this very emotional issue.
I told Let it Rip host Huel Perkins and Fox 2's legal analyst Charlie Langton that when age affects your ability to drive, it's time to hand over the keys.
Older drivers do represent a greater danger on the road.  According to statistics from the Michigan Traffic Crash Facts from 2012 (the latest statistics available):
There were 1,259,615 licensed drivers age 65 and older who represented 17.8% of Michigan's active driving population.
The drivers in this age group represented 8.9% (41,047) of drivers in all crashes and 14.5% (196) of drivers in fatal crashes.
163 people age 65 and older were killed in traffic crashes; 121 (74.2%) of them were drivers.
In addition, 6,798 people age 65 and older were injured in traffic crashes, 9.6 percent of all persons injured in crashes.
The only other age group that, statistically is more dangerous than elderly drivers are the very youngest teen drivers. But teen drivers are dangerous for different reasons. Teen drivers are more likely to cause a car accident because of poor driving judgment, such as texting and driving.
In contrast, elderly drivers tend to exercise very good driving judgment. For example, they're most likely of all age groups to wear a seat belt. But the elderly cause motor vehicle accidents more due to the advances of the aging process: Problems like failing  vision, confusion behind the wheel, coordination, balance, declines in cognitive functioning and perception and reaction time.
So elderly drivers are more likely to get confused and go the wrong way on a freeway, or fail to see a child and run the child over in a neighborhood street.  Even a two-to-four second delay between perceiving an object – like a child  –  and being able to react by pressing on your brakes or turning your steering wheel, can be deadly.
Still, I want to stress that as a lawyer, I'm probably first to recognize that we are talking about taking away the legal rights of a group based upon generalizations to the elderly as a population, which clearly is discriminatory when applied on a person-by-person level, if the they're doing fine. I recognize this is an extremely sensitive and emotional issue. For the elderly, a car is not just a car; it's a lifeline.
I'm not saying we should take away all elderly drivers' freedom; I'm saying we can strike a balance. I'm saying that as a society, we can do better.
To do that, I propose  testing every couple years for elderly drivers after they reach a certain age to determine if they're safe enough to drive. This protects individuals and protects society. A simple, quick and inexpensive five minute test, every couple years, would make all the difference.
I wrote about how to make elderly drivers more safe in a previous blog post, "Elderly driving and car accidents: Let's focus on prevention before the accident – not after."
Currently, our law is entirely focused on the pound of cure, not the ounce of prevention.  You can get a license re-examination to determine if an elderly driver is still fit to drive, but only if that driver has killed someone, caused three car accidents in two years, or accrued 12 or more points on their license in two years.

Related information:
Why Michigan's elderly driving law does not protect the public or the elderly