Under Michigan's texting while driving ban, there's no jail time, but there is in other states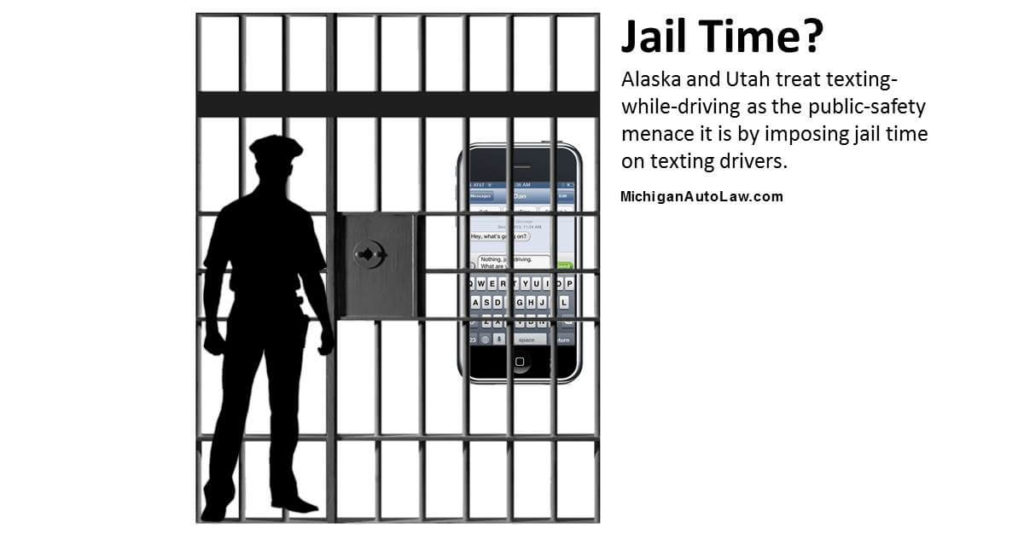 Under Michigan's texting laws, there currently is no possibility of jail time to deter drivers from texting-while-driving. (See MCL 257.602b and 257.320a(2)) There is however, jail time for people who drink and drive – and woe be it, for example, for any driver in Oakland County who is found to be drinking and driving. There are almost no exceptions to jail time, as many doctors, lawyers, C-level executives and others have found.
This stiff punishment has been shown to be incredibly effective at deterring others from drinking and driving. It also begs the question:
If texting while driving is just as dangerous as drinking and driving, then why is the penalty for texting while driving so incredibly weak?
Why aren't Michigan lawmakers doing more to deter this dangerous and deadly behavior?
Perhaps lawmakers can take a page from what lawmakers in other states are doing. Two states treat texting while driving as a significant public-safety menace that threatens everyone on the roads by imposing jail time on texting drivers:
Alaska – Up to one year in jail for texting while driving
Utah – Up to 90 days in jail for texting while driving.
And as an auto accident lawyer, who sees first-hand the devastation that texting is causing in the cases I litigate and the very real people who are injured by drivers who are not watching the road, I agree. These lawmakers are right.
And what about added points on people's driving record? Tomorrow I will discuss other alternatives to punish texting drivers, including license points, that again Michigan has for now chosen not to adopt.
Related information:
Landmark texting while driving case ends in motor vehicle homicide conviction
– Photo courtesy of Creative Commons, by V1ctor Casale