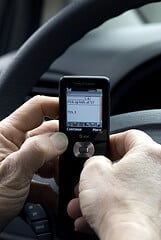 This week is "texting week," where I'm comparing Michigan's penalties for texting while driving with those in many other states. As I wrote: If texting while driving is so dangerous that Michigan passed a law making it a crime, then why don't our lawmakers do more in terms of punishment to deter others?
Let's start by taking a look at our penalties for texting while driving in Michigan.
Violation of Michigan's texting-while-driving ban is a mere "civil infraction," punishable a mere $100 fine for a first offense and $200 for second or subsequent offenses. MCL 257.602b.
Significantly, under Michigan's law, there's no jail time for texting-while-driving.
And "points" cannot be entered on texting drivers' driving records.
Also, drivers' licenses cannot be suspended or revoked. (See MCL 257.602b and 257.320a(2))
No one really knows exactly why Michigan lawmakers in 2010 decided to make the criminal penalties so light for texting. As an accident attorney, I don't understand why lawmakers decided to go "so easy" on texting drivers, when the death and carnage they are causing is become more widespread with every passing day.
For the sake of argument, it isn't because these lawmakers didn't know any better. And if any lawmakers say it's because they had not been fully aware of all their options for deterring and discouraging texting while driving, well, that's certainly no longer the case.
Michigan lawmakers now have examples from across the country of how other states have used a combination of stiffer fines and even jail time, as well as points on a person's driving record and suspensions and revocations, all to put the brakes on the dangers posed by texting drivers in their states.
Tomorrow, I will compare the criminal penalties in Michigan for texting while driving with the criminal penalties for texting and driving in other states.
Related information:
Texting while driving in Michigan: Frequently asked questions