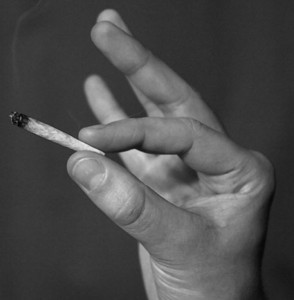 I recently wrote about how the law works  when drivers on legal marijuana cause a car accident.    The next logical question is what happens when drivers are on illegal substances and drugs and cause a car accident?
The impairing effects from smoking marijuana generally last 45-90 minutes, and can be longer for ingesting cannabis through food. But its active chemical, delta-9-tetrahydrocannabinol (commonly known as "THC") can remain in a user's system days and even months after the "high" has come down.
This poses a slippery slope when it comes to the criminal  prosecution of drivers who are on marijuana.  It also raises obstacles in civil cases for auto lawyers such as myself.
For instance, if police cannot determine when someone smoked pot, but tests her after a crash, should that person be prosecuted even if she didn't use marijuana in the day before the crash?  What if she didn't use marijuana for a couple days before causing a serious or fatal car accident?  Does that change the decision-making of the prosecutor of whether or not to bring criminal charges?
These are important questions, because every year several hundred people die  in Michigan from alcohol- or drug-related crashes, according to Michigan.gov.
It is also good timing to think about these issues, as December is  Drunk and Drugged Driving Month.  December is also the time of year when auto crash rates and death rates due to drunk driving and substance abuse are significantly higher than during the rest of the year.
Criminal penalties in Michigan for driving with illegal drugs in your system
In Michigan, it's illegal to drive with any amount of a Schedule 1 drug or cocaine in your body.
According to the U.S. Drug Enforcement Administration, a schedule 1 drug is:

"Schedule I drugs, substances, or chemicals are defined as drugs with no currently accepted medical use and a high potential for abuse. Schedule I drugs are the most dangerous drugs of all the drug schedules with potentially severe psychological or physical dependence.

Some examples of Schedule I drugs are: heroin, lysergic acid diethylamide (LSD), marijuana (cannabis), 3,4-methylenedioxymethamphetamine (ecstasy), methaqualone, and peyote "
Anti- drugged driving laws require stiff penalties for drunken drivers in Michigan.
Require courts to decide drugged (and drunken) driving cases within 77 days after an arrest or after an arrest warrant is served, whichever is later.
Require a mandatory six-month driver's license suspension even for a first conviction of driving while intoxicated. A driver may be eligible for a restricted license after serving 30 days of the suspension.
For more information about driving on drugs in Michigan, here's a comprehensive document from the Michigan.gov on substance abuse, and driving laws and penalties.
How long can drugs remain in your system?
Below is a list of drugs and the approximate amount of time they can be detected in your system via a urine test:
Alcohol:
7 to 12 hours detection time
Amphetamine:
Methamphetamine:
Barbiturates:
Short-acting, 24 hours detection time
Long-acting, 3 weeks detection time
Benzodiazepine:
Short-acting, 3 days detection time
Long-acting, 30 days detection time
Cocaine metabolites:
2 to 4 days detection time
Marijuana:
Single use, 3 days detection time
Moderate use (4x/week), 5 to 7 days detection time
Daily use, 10 to 15 days detection time
Long-term heavy smoker, >30 days detection time
Opiates:
Codeine, 48 hours detection time
Heroin (morphine), 2 to 4 days detection time
Hydromorphone, 2 to 4 days detection time
Methadone, 3 days detection time
Morphine, 48 to 72 hours detection time
Oxycodone, 2 to 4 days detection time
Propoxyphene, 6 to 48 hours detection time
Phencyclidine, 8 days detection time
– Source: University of Illinois at Chicago College of Pharmacy: What drugs are likely to interfere with urine drug screens?
As an injury lawyer, I've seen the sad consequences of what happens when people  take drugs and still drive a car or truck.  It takes a horrific toll on our society, and devastates innocent lives.   Stay sober and safe this holiday season.
 – Photo courtesy of Creative Commons, by Torben Hansen