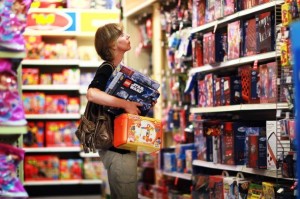 It may seem way too soon to talk about holiday shopping this year, but some people are already gearing up for Black Friday (even though Black Friday is starting as obscenely early as the day before Thanksgiving these days). If I sound a bit grumpy writing this post today, I hope you'll excuse me.  One of the legal secretaries in our law office already has Christmas music on all day long on the radio, so here come the holidays, like it or not.
And since everyone will be out there shopping for their loved ones' holiday gifts and the best deals, I'd like to give some important toy buying tips… but hopefully from a unique perspective. This is my list from my perspective as a personal injury lawyer. I am writing today about some toy buying safety tips that probably won't make the other lists.
Yes, I'm a lawyer but I write this not to rain on everyone's parade. Hopefully instead, this can be used to help prevent child injuries and  accidents during what's supposed to be the most  joyous time of year.
In 2010, an estimated 181,500 children were treated in an emergency room for a toy-related injury. That's 500 kids every day. Nearly half of those injured were children 4 and under, according to Safe Kids Worldwide.
But it doesn't have to be this way. A little knowledge, research and caution can go a long way in preventing child injuries from toys.
Here are some easy-to-follow toy safety tips you can take with you shopping this year:
Consider the child's age: Always check the toy label to make sure it's made for a child within the proper age range.
Check for small parts: Before you choose the toy, check to make sure there aren't any small parts or other potential choking hazards. Don't forget small game pieces.
Strangulation hazards: Watch out for mobiles, cords, drawstrings or any toy that has string or rope that could be a strangulation hazard.
Beware of batteries and magnets: Powerful small magnets and the acid from button batteries used in many toys can be fatal if swallowed.
Don't forget the helmet: Kids always need helmets for riding toys like that shiny new bicycle and scooters. Here are some tips for choosing a safe bicycle helmet for your child.
Some toys may have lead or other toxic chemicals: Most lead and phthalates are being phased out of toys, but older toys may still have them, such as those with pvc plastic, lead jewelry and painted toys.
Sign up to receive product recalls: Receive the latest toy and product recalls here.
Store your toys: After play time is over, use a bin or container to store toys for next time to avoid trip and falls.
Related information: