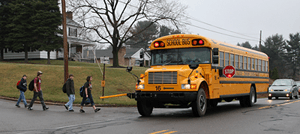 The school year is under way for Michigan students. I was recently preparing for a deposition in a very sad bus accident case involving my client, who was a young child hit by a car after getting off a school bus, and wanted to take a moment to share some important school bus safety tips that all parents can teach their children.
Children will not be aware of the danger that exists getting off a bus.  It's up to you as the parent to help make them aware, and teach them how to safely get in or off the bus.
Boarding the school bus
When waiting for the bus to arrive, stay away from traffic and avoid roughhousing or other behavior that can lead to distraction.
Also, don't stray onto streets, alleys or private property.
Line up away from the street or road where the school bus picks up.
Wait until the bus has made a complete stop and the doors have opened before stepping onto the road.
Exiting the school bus
If you have to cross the street in front of the bus, walk at least 10 feet ahead of the bus along the side of the road until you can turn around and see the bus driver.
Make sure the bus driver can see you.
Wait for a signal from the bus driver before beginning to cross the street.
When the driver signals, walk across the road and keep an eye out for traffic and sudden changes.
Stay away from the rear wheels of the school bus at all times.
– Source National Safety Council
For more information on school bus safety, take a look at our blog, with information on Michigan's law for stopping for school buses and how to share the road safely with school buses and pedestrians.

Related information: