Watch out for your little Trick or Treaters
Thursday is Halloween. And while it's my family's absolute favorite holiday (my son will be a stealthy ninja warrior and my daughter will be a very cute and home-made Archie comic book), there's a dark side to the holiday that I unfortunately see every year as an accident attorney…
The risk of a child being killed by a car is twice as high on Halloween than it is on other nights,  according to Safe Kids Worldwide. Safe Kids is a global organization dedicated to preventing child injuries.
And since automobile accidents are the leading killer of children 1 to 12 years old in the United States, according to the according to the National Highway Traffic Safety Administration (NHTSA), our attorneys put together this safety graphic to raise awareness of the increased danger that Halloween poses to young Trick or Treaters.
We hope you will share it  with your friends and family.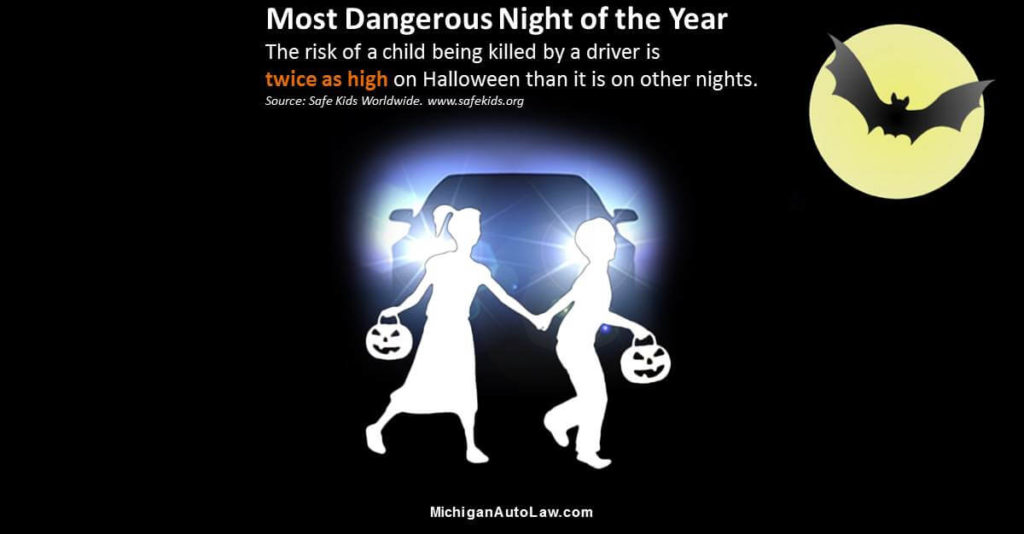 Why are so many children being killed in pedestrian car accidents on Halloween?
Many young children are not accompanied by parents.  And many children are just children – they are excited and loaded up on sugar and running around and being exactly like we were at that age.  Some also have costumes that limit their own visibility and their ability to be seen (ninja warrior costumes come to mind).
I believe the onus is  on drivers to be extra careful and extra vigilant if they choose to drive on Halloween. Alcohol plays a prominent role as well, as many parents are drinking that night and many young adults are coming back from Halloween parties.
The grim statistic is not meant to scare you.  But hopefully knowing that the chances of  children being twice as likely to be hit by a car and killed on Halloween can be the warning so that parents walking with children can be extra careful.  If nothing else, hopefully parents will be reminded to take the time to sit down and talk to their children about Halloween safety.
Here's another helpful blog post with 10 tips for safe trick or treating – to avoid child pedestrian car accidents on Halloween.
May your Halloween be injury free. Fake awesome zombie blood not included of course.
Safe trick or treating everyone!
Related information:
Don't be a ghoul: Get your car seat inspected at Michigan Auto Law during Halloween week!