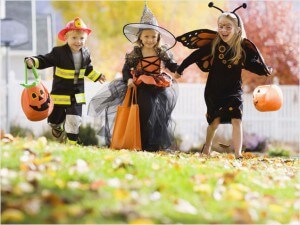 Halloween is definitely my children's favorite holiday. This year, my son is a ninja warrior, complete with plastic sword. And my daughter is an Archie comic book, because reading Archie comics is her favorite thing to do (it was a close call between Archie and Harry Potter this year).  I'm looking forward to walking them up and down our neighborhood streets for candy.
But there's a safety component that should not be overlooked this Halloween that goes beyond checking candy. As an accident attorney, I've also gotten my share of calls every year in the days shortly after Halloween from parents who have had children hit by cars on Halloween night.  As much as I love the holiday, I can't help but also think about safety.
Car seat safety installation and inspections at Michigan Auto Law
Many parents will also be driving around their little trick-or-treaters for Halloween this Thursday. And while there are not as many drunk drivers as there are on New Years or the day before Thanksgiving, it is so important for children to be properly secured in their car seats or booster seats.
Children should be secure all the time, of course, since automobile accidents are the leading killer of children 1 to 12 years old in the United States, according to the according to the National Highway Traffic Safety Administration (NHTSA). A large number of these fatalities involve children in car seats that if they were properly secured, might have lessened the severity of injury – or even saved an innocent life.
With Halloween week here, it's a good time to double check and make sure your car seat is safe and properly installed. Michigan Auto Law is offering free car seat inspections and installations all this week:
When: By appointment, anytime between 9 a.m. – 5 p.m., Monday through Friday.
Where: Michigan Auto Law, 30101 Northwestern Highway Farmington Hills, MI 48334.
Who: Anyone who is interested can call and set up an appointment with our own Michigan Auto Law certified car seat safety technician.  This event is open to the public. You don't have to be a client.
How to make an appointment: Call Michigan Auto Law at (800) 968-1001, or e-mail us at [email protected]
Remember, installing a car seat on your own is not as easy as 1-2-3. Many parents are confused about installing car seats and getting it wrong. In fact, about three of every four car seats are installed improperly, according to the NHTSA.
But it doesn't have to be this way.
Taking a half an hour to get your car seat inspected or installed by a certified professional can save your children's lives.
Our car seat safety technician is certified by SafeKids Worldwide, and has successfully completed the National Child Passenger Safety Certification Training Program. This is a government program and any child safety technician in the U.S. must be certified by SafeKids Worldwide.
Safe Kids Worldwide supports more than 8,000 car seat inspection programs across the country.
According to a recent story in The New York Times, "Strapped in, but Still at Risk,"  safety advocates say the ever-changing variety of vehicles and car seat models made proper installation a moving target.
Come to Michigan Auto Law to get your car seat checked – so you can have peace of mind and the best possible time  with your ghosts, goblins and fairy princesses this Halloween.
Related information:
10 tips to prevent child pedestrian accidents on Halloween