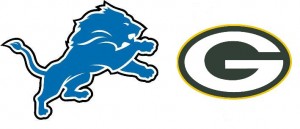 Well, my Lions won as I predicted last week and my friend Ken Levinson had to make a generous donation to my chosen charity, C.S. Mott Children's Hospital in Ann Arbor as a result.
This week, I thought I would invite my friend Randy Rozek to a similar bet.  Randy is a very talented attorney from Wisconsin.  He and I have attended and spoken at dozens of legal seminars over the years on traumatic brain injury and trucking litigation.  But there is one problem with Randy: He happens to live in Wisconsin and he's a Green Bay Packers Fan.
Today the Lions face off against the Packers. If, in the off chance the Packers win (Ok, even I have to admit that at Lambeau Field, I'm probably going to be the one making the charity contribution this week. But at least it won't be snowing there), I've agreed to donate to a charity of Randy's choice, Hunger Task Force.  If the Lions win again, Randy will make a donation for charity to C.S. Mott Children's Hospital in Ann Arbor.
While our teams might be going head-to-head, a great cause wins.