And recommendations on choosing the right car seat
National Child Passenger Safety Week kicks off today. As a law firm specializing in auto accidents, we want to make traveling in your car with your child as safe as possible.
That's why Michigan Auto Law is offering free child car seat inspections and installations, starting this week:
When:  By appointment, anytime between 9 a.m. – 5 p.m., Monday through Friday.
Where: Michigan Auto Law, 30101 Northwestern Highway Farmington Hills, MI 48334.
Who: Anyone who is interested can call and set up an appointment with our own Michigan Auto Law certified car seat safety technician.  You do not have to be a client.
How to make an appointment: Call Michigan Auto Law at (800) 968-1001, or e-mail us at info@michiganautolaw.com.
The service is free.
Car crashes are the leading killer of children 1 to 12 years old in the United States, according to the National Highway Traffic Safety Administration (NHTSA). But the good  news is, parents can protect their kids by putting them in the right car seat and making sure it's installed properly.
Take a look at this  great graphic on "Car Seat Recommendations: Choosing the Right Seat" from the NHTSA: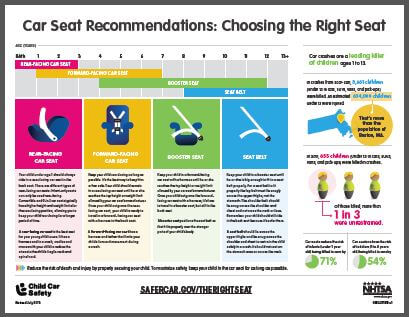 Car seat safety statistics
The good news is, more parents are choosing to keep their children in age and size appropriate car seats and booster seats longer, instead of transitioning them to seat belts too soon, according to a recent survey, "2011 National Survey of the Use of Booster Seats (NSUBS)" by the NHTSA.
The survey also reports that the number of children ages four to seven riding in only seat belts, instead of car seats and boosters, dropped 7 percent in 2011 to 25 percent, down from 32 percent in 2009.
Meanwhile, the use of both car seats and booster seats increased during the same period, suggesting that parents are increasingly following NHTSA recommendations and not graduating their children prematurely to seat belts.
The correct use of age and size appropriate child restraints is one step parents and caregivers can take to help decrease this number of child car accident deaths. The  NHTSA estimates that more than 12,200 children were saved by car seats and seat belts in 2011.
But take caution. While the recent survey reports that restraint use for all children under 13 years of age reached 91 percent in 2011, it also shows that 25 percent of children ages four to seven were improperly restrained by seat belts instead of car seats or booster seats.
Stop by Michigan Auto Law to make sure your child is safely and properly secured in the car seat.
Related information: