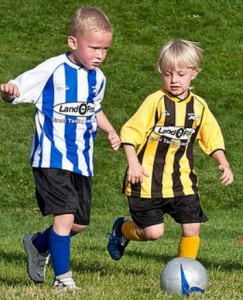 Parents of youth athletes, here's some good news.   The State of Michigan has recently enacted a sports concussion law for youth. This law regulates sports concussions and the return to athletic activity.
The Michigan concussion law requires all coaches, employees, volunteers and other adults involved with a youth athletic activity to complete a concussion awareness training program online. It went into effect on June 30, 2013.
For more information about concussions, including concussion symptoms, take a look at our concussion FAQs.
This is extremely important. I serve on the Executive Board of the American Association for Justice Traumatic Brain Injury Lawyer Group. And protecting victims young athletes in high schools around the country has been an important part of the group's advocacy and education efforts in recent years, especially when it comes to educating coaches and parents that sending a child who "just had their bell rung" back into a game can have horrific consequences.
Under Michigan's new sports concussion law, the organizing entity must provide educational materials on the signs, symptoms and consequences of concussions to each young athlete and their parents and guardians. The schools and sports organizations must also obtain a signed statement acknowledging receipt of the information for the organizing entity to keep on record.
Here's a great parent and athlete concussion information sheet from the CDC that also can be used as a signed statement.
The law also requires immediate removal of an athlete who might have a concussion from physical participation in an athletic activity. The student athlete must then receive written clearance from a doctor before he or she can return to the physical activity.
Michigan is the 39th state to enact a sports concussion law. I'm glad Michigan is on board for the sake of our children. As an accident lawyer who receives many traumatic brain injury referrals, I often write about traumatic brain injury and concussions from car accidents and other traumatic events. When should an athlete report concussion symptoms?
If an athlete or car accident victim has a concussion, his brain needs time to heal. And while the brain is healing, the injury victim is more likely to sustain another concussion. In turn, multiple concussions can increase the time it takes to recover.
Read Dale Earnhardt's story about his repeat concussions, which had delayed symptoms.
In some cases, concussions can result in brain swelling or permanent brain damage. They can even be fatal (Source: CDC Heads Up Program).
If our schools are being more vigilant about concussions, it only means a better future for our children.
 Related information:
Will people still play football when my grandchildren grow up?
 – Photo courtesy of Creative Commons, by makeslessnoise