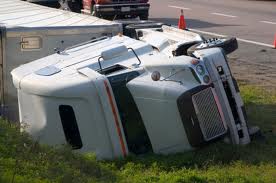 The current minimum insurance limits for commercial trucks and tractor trailers is only $750,000. To put that into perspective (and based upon real facts), let's assume you have a fully loaded gravel hauler that has bald tires, bad brakes and a truck driver who is stoned from smoking pot. That gravel hauler hits and kills a family of four. Four innocent people now dead from a completely preventable and senseless crash. In many instances, the most that the trucking company's horrible negligence would pay in this scenario is only $750,000.
This is because $750,000 is the current minimum insurance limit for commercial trucks required by law. After the insurance company for the truck pays its limits, there often are not sufficient assets that the company retains to pay an excess judgment over insurance.
The company may declare bankruptcy, and re-incarnate almost immediately as a "chameleon carrier" instead as a way to further avoid financial responsibility.
This is made worse in Michigan because juries are not allowed to find punitive damages for gross negligence. That means we lose the deterrent effect that punitive damages are meant to create to deter other trucking companies from grossly violating federal safety laws and killing even more people.
Almost everyone agrees – even the larger and more respected trucking companies – that the minimum insurance policy limits limits for commercial trucks are outdated. They are inadequate. In fact, they haven't been increased in nearly 30 years, and they were not ever indexed to inflation (like Social Security is), which means that these policy limits are now less than half of what they were intended to be when they took effect nearly 30 years ago.
Using a 4% inflation rate throughout of a period of 29 years, the rate to insure a truck in the present day is $3.12 million.
Truck lawyers like myself have long recognized how inadequate these insurance policy limits are to compensate accident victims. When I was president of the American Association for Justice Truck Accident Litigation Group, I pushed hard for changes. I had an interesting ally in this cause: the bigger trucking companies around America. These larger truck companies see the same things I see as a lawyer, which is minimally insured smaller companies undercutting them on price by taking major shortcuts on safety.
Increasing insurance limits also increases safety.
And now a new actuarial study is also calling for higher insurance limits for commercial trucks. The research also indicates that the federal insurance requirement for the trucking industry is far too low.
The Trucking Alliance, a group of seven carriers that lobby for safety legislation, found that the dollar settlements in several cases were far above the $750,000 minimum federal insurance requirement, according to an article on truckinginfo.com, New Study Puts Spotlight on FMSCA Insurance Requirement. While these high settlements occurred only about 1% of the time, the amounts were enough to create an uninsured liability of 42% for the truck companies.
For the study, members of the Alliance provided data on more than 8,600 accident settlements between 2005 and 2011. The analysis was from the actuarial firm of Bickerstaff, Whatley, Ryan & Burkhalter.
The study comes as the Federal Motor Carrier Safety Administration (FMSCA) completes its own analysis of the insurance standard for commercial trucks, as required by the highway law Congress passed last year. Congress considered raising the insurance minimum from $750,000 to $1 million, but instead decided to have the FMSCA prepare an analysis that could become the basis for changes in the standard.
Commercial truck insurance limits must be raised. And not as a boon for lawyers who handle these terrible truck accident cases, but as real help to protect truck accident victims who are seriously injured, and the families of those who are killed due to truck companies' gross negligence.
The last time the insurance minimum was changed was in 1986, when it was increased from $500,000 to $750,000.
Time to raise the insurance minimum for trucks again.
Related information: