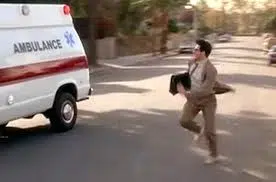 The Detroit News recently published my opinion editorial on accident lawyer solicitation: Stop ambulance-chasing lawyers.
In my op ed for the Detroit News,  I wrote of the terrible events happening in Michigan, when ambulance chasing lawyers are  looking up auto accident victims by their police reports and then calling them, knocking on their doors and mailing them packages. This is happening within days and sometimes even within hours of car crashes, and it's done to drum up business.
Lawyer solicitation is about the worst and most demeaning thing I can think of for the legal profession. It needs to stop now.
In my op ed, I also discussed my support for House Bills 4770 and 4771, introduced by Rep. Ellen Cogen Lipton (D-Huntington Woods) and Rep. Joseph Graves (R-Argentine Township). Another bill, HB 4772, was sponsored by state Rep. Kevin Cotter (R-Mount Pleasant) and establishes violation of the new standards as a felony.
These laws would make lawyer solicitation illegal for 30 days after an auto accident, and punish the personal injury lawyers who engage in the unscrupulous practice of pouncing on vulnerable accident victims with up to a felony and $15,000-$30,000 in fines.
The same week, I was also featured in a Michigan Lawyers Weekly story by Gary Gosselin about these proposed bills on lawyer solicitation: Bills to stop 'attorney solicitation' moving quickly.
Michigan Lawyers Weekly is reporting that these bills are moving quickly through the House of Representatives and are expected to be voted to the full House very soon.
I told Mr. Gosselin about the growing cottage industry, where medical providers and some lawyers get together and form an entity that uses the police reports to solicit victims and steer them to treatment and representation, resulting in fraud through over billing and needless or excessive medical treatment:
"Michigan has really fallen behind, and we are paying the price and seeing the consequences, and I think it's related with a lot of personal injury protection fraud. We're supposed to be helping the public and we're just shooting ourselves in the foot. I think when you talk to the people who are respected on both sides; everyone is in favor of this."
I'm happy to see the lawyer solicitation legislation has bipartisan support. Rep. Lipton is a Democrat and Rep. Graves is a Republican. Many plaintiff's injury lawyers are supporting it, as well as the auto insurance industry.
Let's hope these bills keep moving and come to fruition, so auto accident victims have time to heal, and choose an attorney with peace of mind if they want to go that route. These bills would also help clean up the reputation of personal injury attorneys.
Meanwhile, the U.S. Supreme Court ruled last week that lawyers who want to use drivers' personal information to solicit new clients for consumer lawsuits cannot rely on an exception to a federal privacy law. This is another huge step forward in stopping attorney solicitation. Stay tuned for my interpretation of this important court decision.