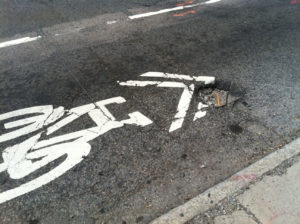 As a lawyer, I have helped a lot of people injured in bicycle accidents. Most involve cars and careless drivers. And I've previously written about issues that lawyers who represent injured bicyclists must consider, such as bias surrounding bicyclists injured in Michigan. There are still many drivers who simply think bicyclists have no right to be on the same road, or that bicyclists are putting themselves in danger for bicycling in city streets.
What happens when a bicyclist is injured on Michigan roads due to a road defect, such as a dangerous pothole? Who is responsible for serious injuries to a bicyclist when this happens? And is there a legal responsibility for safely maintaining the roads so a bicyclist can ride safely and without putting himself in peril?
According to a recent Michigan Court of Appeals case Hampton v. City of Southfield, it's up to the city to keep the roads safe for bicyclists as well for  drivers.
That means dangerous potholes must be fixed, or the city and/or municipality may face liability for causing a preventable injury.
Bicyclist v. pothole – pothole wins
Here are the facts of the Hampton case: The Plaintiff, Ronald Hampton, was riding his bicycle home from a grocery store when he struck a pothole in the road in Southfield, Michigan. According to Mr. Hampton's photos of the evidence, the pothole was more than 2.5 inches deep and 20 inches wide.
Mr. Hampton was thrown from his bicycle and suffered severe injuries, including punctured lungs and vocal-chord damage. His attorney alleged in the lawsuit filed on his behalf that the City of Southfield breached its duty to safely maintain its roadways.
The City of Southfield countered that it was protected by  governmental immunity from Mr. Hampton's lawsuit for his injuries. The city claimed its duty to repair and maintain the roads did not extend to bicyclists like Mr. Hampton. Moreover, the city insisted that it didn't know about the road defect that caused Mr. Hamptons's injuries. Finally, the city argued that Mr. Hampton failed to show the roadway had been unsafe and unfit for public travel.
The bicycle pothole accident is up to the jury
The Court of Appeals agreed with the trial judge that the City of the Southfield was not immune from Mr. Hampton's lawsuit and that the city would have to defend itself and the condition of its roadways before a jury.
Significantly, the Court of Appeals made the following points:
The City of Southfield's "duty" to "repair and maintain highways" so that they are "reasonably safe and convenient for public travel," as required by MCL 691.1402, extends to bicyclists such as Mr. Hampton.
There was a question of fact for a jury to decide as to whether the city knew or had "constructive notice" of the pothole that injured Mr. Hampton. The court noted that expert testimony established that the pothole, which was likely in existence for more than 30 days before the bicycle accident, was a common condition that the city should have known about and should have been watching for. Additionally, other testimony showed the road had been "covered with potholes … for a number of years."
A jury should decide whether the city had fulfilled its duty to "repair and maintain" the road given that a pothole the size of the one that injured Mr. Hampton "clearly presents a danger to bicyclists, and it is a matter of common sense that it would also pose a potential danger to vehicle drivers attempting to avoid the hole."
Related information:
Top 3 most common defenses in bicycle accident cases