Study says texting and driving replaces drunk driving as the top cause of car accident fatalities for teens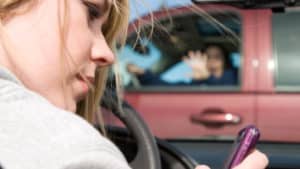 If you are a teen and you're texting while driving a car, this is more likely to kill you than anything else, including drinking and driving, according to a new study performed by the Cohen Children's Medical Center in New York.
The study found that texting while driving has now replaced drunk driving as the No. 1 cause of teenage deaths on the road in the U.S.
Car accidents are the leading killer of teen drivers in the U.S., according to the Centers for Disease Control. But this new information is breaking down the types of car crashes that cause the most teen driver fatalities.
The Cohen Children's Medical Center study found that more than 300,000 teens are injured and more than 3,000 die each year as a result of sending SMS text messages while behind the wheel.
By comparison, 282,000 are injured and 2,700 teenagers are killed as a result of drunk driving.
The study was lead by Dr. Andrew Adesman, chief of Developmental and Behavioral Pediatrics at Cohen Children's Medical Center. It further found that while driving between September 2010 and December 2011, among 8,947 teenagers aged 15-18 nationwide, an estimated 49% of boys admitted to texting while driving, compared with 45% of girls.
As an auto accident lawyer, I would surmise the numbers may be even higher than Dr. Adesman suggests. For example, I know police rarely check smart phones for evidence of texting while driving when they are writing up police reports after a traffic crash. And most auto lawyers do not aggressively pursue this evidence either. Therefore, in most cases, negligent drivers who were paying more attention to their phones than they were to the roads in front of them get away with evidence of their texting while driving going undiscovered.
These findings make sense. As technology continues to advance, teens carry their cell phones with them 24 hours a day, seven days a week. Teens are more inclined to show poor driving judgment and be less likely to resist the urge to text someone back after they receive a text, even when they're behind the wheel.
Statistics show that if you are communicating by text while driving a vehicle, you are 23 times more likely to crash.
Please, don't ignore these alarming statistics. They are there in black and white. If you are texing while driving, you're more likely to be in a car accident and you could possibly be killed.
Parents, don't hesitate to talk with your teen drivers about this. And remember, in Michigan it is illegal for teenage drivers to use cell phones while driving, according to Kelsey's law.