Michigan Auto Law attorney speaks to students as part of National Youth Traffic Safety Month – Let's do our part to prevent teen car accidents today
I think every parent can relate to the anxiety inducing evenings of waiting for teen drivers to arrive home safely.
Summer is upon us.  And for teenage drivers, the highest numbers of car accidents (including car crashes involving injury and death) occurs in the summer. And car accidents are the leading cause of death for teen drivers, according to the Centers for Disease Control and Prevention: In 2010 (the latest statistics available), seven teens ages 16 to 19 died every day from motor vehicle accident injuries.
May is National Youth Traffic Safety Month.  And that makes now  a great time to talk with your teen driver about safety.  It's an important talk for every parent to have your teen driver as they  prepare for prom night, graduation and the summer ahead before going off to college.
During National Youth Traffic Safety Month, companies and organizations across the country will be holding events, contests and promotions to raise awareness about the dangers teens and children face on the road.
Our own auto accident attorneys are doing our part by blogging about teen driving and child safety issues. We're also having our attorneys speak at several schools in metro Detroit and the Grand Rapids area to discuss safety tips with student drivers.
Last Friday, attorney Brandon Hewitt spoke at Hillsdale High School in Hillsdale, Michigan. Here is Brandon with a Hillsdale police officer and a student.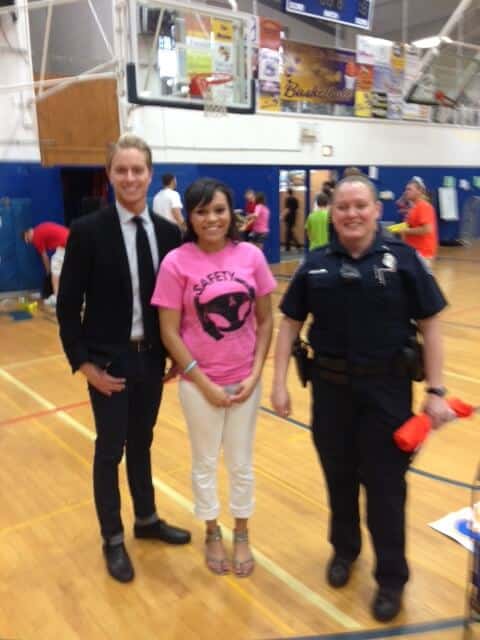 Here's a video of a local police officer speaking at the high school rally, on Kelsey's law and teen driver laws in Michigan.
And here's another video of the students watching the story of a girl who's sister was killed when they were texting.
Brandon was there to talk with the students about the dangers of distracted driving and driving under the influence, and to review Michigan's texting law.
Here are a few points Brandon covered with the students:
Kelsey's Law, cell phone ban for teen drivers: passed
13 dangerous distractions that cause teen car accidents
5 tips to reduce car accidents caused by teen drivers
How buzzed driving is drunk driving
Hillsdale High School is participating in the actoutloud.org campaign as part of National Youth Traffic Safety Month.