May 1 is a day to change the way we drive to  protect our children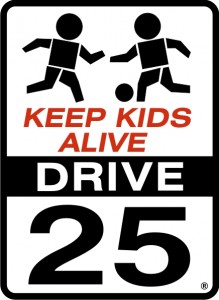 Most  car accidents aren't "accidents" at all.  Most car crashes are  preventable.  And perhaps none more so, or more tragic, than those involving injuries and fatalities to children from those who are speeding and driving distracted in neighborhoods with children.
Wednesday is national Keep Kids Alive Drive 25 Day. It's an important awareness day that reminds all of us to slow down in  neighborhoods.  It's an important reminder of what we should be doing behind the wheel to  protect our children.
I am a lawyer who has handled far too many tragic and completely preventable car accidents involving children.  And I am also a father of two.  So Keep Kids Alive and Drive 25 Day has special meaning and significance for me.
Consider these alarming statistics from the National Highway Traffic Safety Administration (NTHSA):
On average, over 93 people are hit and killed by cars every day.
500 children under 14 years old were killed in car accidents while walking in what should be their safe haven – their neighborhood.
Each year over 4,000 people are killed while walking in neighborhoods or crossing streets.
The good news is, as I said above, these are car accidents that are mostly preventable.  Most involve speeding and distracted driving. You just have to slow down and focus on the road and see what is there – often plain as day – to be seen.  The image that many people have of the unavoidable "dart-out" accident does happen, but far more rarely than what many people might believe.  Far more car accidents involving children are from driver inattention rather than children running out without warning in front of cars.
Here are 14 driving safety tips in case you need a refresher.
We hope this day will get people talking about the need to change the way we drive in our neighborhoods. I hope drivers will begin to slow down, obey stop signs and speed limits, and always scan for children.
Related information: