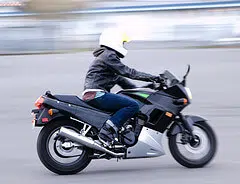 According to a new report published recently on MLive, if Michigan had not repealed  its mandatory motorcycle helmet law in 2012, 26 people who were killed in motorcycle accidents would still be alive today.  That is according to statistical estimates from a University of Michigan researcher.
The U of M report stated that those 26 fewer deaths would represent an overall 21 percent reduction of fatalities from 2011.
Using the same analysis, there would have been 49 fewer serious injuries, or an 8 percent reduction, said Carol Flannagan, a researcher at U of M's Transportation Research Institute.
This information comes from a recent MLive article by Fritz Klug, 21 percent reduction in motorcycle deaths projected if Michigan helmet mandate was in place, researcher says.
This is one of those instances where I wouldn't mind being wrong.  Longtime readers of this blog know that I was interviewed by the Detroit Free Press the day after the motorcycle repeal became law, and I said that this would result in more people dying, more people being seriously injured, and the costs of medical care and treatment increasing.
Stay tuned, for I will be writing a more in-depth analysis of this report on motorcycle deaths due to the helmet repeal.
Related information:
Motorcycle accident death statistics after helmet repeal
Animoto video: Ignore the spiel on the Michigan motorcycle helmet repeal