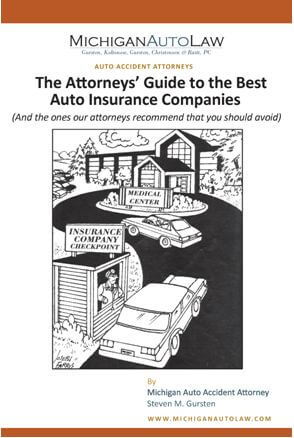 As an insurance attorney helping people in auto accidents for nearly 20 years, I'm constantly asked about which insurance companies I think are the best (and which insurance companies I think are the worst!).
Reality is often so different from what we see on TV, and it's hard to think of a better example than with the insurance companies. The lousiest ones spend the most money to seem like the warmest and fuzziest, and they sponsor everything from football games to fairs.
Adding to the confusion is that insurance policies are very confusing (one could say they are deliberately written to be that way).  And people have so many options on what types of coverage to purchase. Choosing the right auto insurance company to best protect yourself and your family can truly be a very daunting task.
To help cut through this confusion, and to share what we as insurance attorneys see every single day, our lawyers  have put together a book.
The Attorneys' Guide to the Best Auto insurance Companies (and the ones our attorneys recommend that you should avoid)
This helpful guide to our picks for the best and worst insurance companies includes:
Our attorneys'picks of the four best auto insurance companies, and the facts and numbers behind it, as well as the first-hand experiences of real clients that led our attorneys to choose these four insurance companies.
Tips on how to choose the insurance company that's best for you and your family.
Our picks for the worst auto insurance companies.
Examples of how each of the "worst" companies have mistreated accident victims and consumers.
This book is based on the real experience of our lawyers; lawyers who deal with insurance companies every single day, and who see how these companies do business and treat people. We've also provided the quantitative data that coincides with our own personal experiences.
We want to  give you the information you need to pick the best auto insurance company for you and your family.
In the coming weeks, we will be writing many more blog posts on the best  insurance companies, the worst auto insurance companies and the cheapest auto insurance. We will also delve further into many of the auto insurance companies that made our lists, sharing real stories of real clients.
Our goal is simple: the best insurance companies aren't necessarily the ones sponsoring football games and fairs.  We want you to find the best insurance, and call out the insurance companies who make a habit of mistreating their own customers while running ads about how great they are.
We hope you enjoy this series, and find our book truly helpful.
For questions or comments, you can visit our  forum on the Best and Worst Auto Insurance Companies.
Related information:
Top 4 Best Auto Insurance Companies: 2011
6 Worst Auto Insurance Companies: 2011
10 Worst Auto Insurance Companies: 2008