Safety tips: when weather and road conditions change from clear to blinding snow in a matter of seconds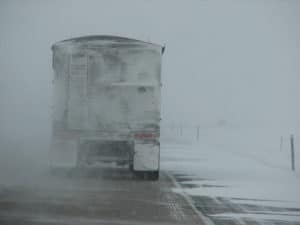 Recently, there was a 12-minute whiteout on I-75 in southwest Detroit that caused a 30-vehicle accident, killed three people and injured many more.
I spoke to a driver from that crash recently, who described what he had encountered. The white-out was scary, because whiteouts are so blinding that the drivers involved lost control, crashed into each other and were rear-ended.
What is a whiteout?
A whiteout is a weather condition that causes severely reduced visibility by an onslaught of snow and wind. The horizon disappears completely, leaving drivers with distorted orientation and no reference points. A whiteout can be due to extremely heavy snowfall in lake effect conditions, or to other factors, like diffuse lighting from overcast clouds, fog or mist.
Dos and don'ts for driving in a whiteout
Whiteouts can come on fast, and they are dangerous. But there are things you can do to prepare for a winter white out.
Do:
When visibility is near zero, try to get off the road and into a safe parking area if possible. Freeway shoulders are not safe in a white-out.
Gradually slow down, and drive according to the weather conditions.
Make sure all of your lights are turned on. Regular headlights work best in snow squalls.
Keep calm, patient and alert.
Increase your following distance so you can brake safely.
Keep your windows and mirrors clean with your defroster and wipers.
Look as far ahead as possible.
Don't:
Don't stop. And don't stop suddenly. You could become the first chain-reaction motor vehicle accident.
Avoid passing and changing lanes.
Do not drive distracted.
If you are stranded in severe winter weather
If you become stuck or stranded in severe weather:
Stay with your vehicle until help arrives.
Slightly open a window for ventilation.
Run your motor sparingly.
Use your emergency flashers.
Be prepared: Have an emergency kit including blankets, warm clothes, flares, a first-aid kit, a flashlight, jumper cables, bottled water, snacks, a shovel, candles and matches.
And before you drive, check the weather and traffic reports. If there's a weather warning, reports of poor visibility and driving conditions, or if the temperature drops dramatically, try to delay your trip.
Safe driving everyone.
Related information: