Attorney teaching teens the dangers of distracted driving, and texting and driving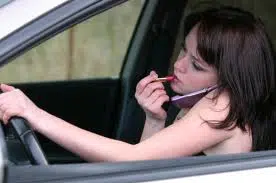 Today and tomorrow, Brandon Hewitt will be speaking at Andover High School in Bloomfield Hills, Michigan. Brandon will be speaking for two days to high school students about the dangers of distracted driving, and how truly dangerous it is for young drivers to text while driving and to drive impaired.
Brandon will share his own experiences as an auto accident lawyer with the students — real stories of young people who were seriously injured or killed – because they were texting behind the wheel or driving impaired or otherwise distracted.
What is distracted driving? Distracted driving is driving any motor vehicle while texting, talking on a cell phone, grooming, adjusting a radio, or attempting any other activity that takes away from a driver's full attention to the road.
And it is a real danger. Recent studies show that the chances of causing a serious car accident skyrockets when a teen driver is using a cell phone while driving. Distracted driving now results in thousands of deaths and thousands of serious injuries each year throughout the country. Unfortunately, the combination of driver inexperience, poor judgment, and now the distractions caused by cell phones, texting, social media and other distractions puts an age group that is already statistically far more likely to cause an accident even more at risk.
Here are a few points Brandon will cover with the students:
Michigan cell phone ban for teen drivers: passed
13 dangerous distractions that cause teen car accidents
5 tips to reduce car accidents caused by teen drivers
Brandon's educational and inspiring talks will help present the sobering statistics of our current safety crisis, and offer simple steps that these young drivers can use to help end distracted driving.
Brandon and the other attorneys at Michigan Auto Law will also be speaking at several other schools on the topic. Stay tuned.