Supersport riders more likely to die in motorcycle accidents  than riders of more traditional motorcycles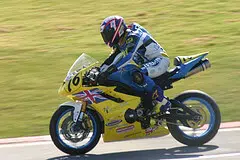 I was recently interviewed by a Florida newspaper Ocala.com, probably being that it's always motorcycle riding season in Florida.  I am one of a small handful of lawyers in the United States who has litigated and settled a large number of serious injury and death motorcycle accident cases, I've spoken at national legal seminars on the subject of how motorcycle cases are very different from other areas of personal injury law, and I'm the president of the Motor Vehicle Accident Trial Lawyers Association.
The reporter, Vishal Persaud, asked what I thought of supersports. He wrote that  supersports are "Cheap, fast and affordable, these motorcycles are attractive and popular with young riders looking for speed and an adrenaline rush… What separates supersport bikes from other motorcycles is both their sleek, futuristic styling and breathtaking speed."
But it's that same speed and adrenaline rush that is causing serious trouble. According to a 2005 report by IIHS referenced in the article:
The death rate for riders of supersports was 22.5 per 10,000 registered vehicles — four times the death rate for those who ride "cruiser" motorcycles like many of the Harley-Davidsons favored by older riders.
Although supersports made up just 9 percent of all registered motorcycles in the U.S., they accounted for more than 25 percent of all motorcycle fatalities.
Of the 4,007 bikers who died in 2010, 943 — almost 25 percent — were riding supersports.
I told Vishal that supersport motorcycles, because of their speed and attraction to younger and inexperienced motorcycle riders, are really an "attractive nuisance" – an inherently dangerous product. And because of the number of wrongful death and catastrophic injury crashes that occur on supersports, these  risks should not be overlooked.
I've watched with concern as supersport bikes have increased in popularity over the last decade, particularly among young men who are apt to test the limits of the bike's capability: "I started seeing … young riders in their 20s and 30s, riding these supersports and getting into these catastrophic injury accidents."
Michigan is a very different state from Florida, of course.  One thing lawyers can do to help people seriously injured in motorcycle crashes is to help protect their Michigan No-Fault benefits, and in particular attendant care benefits. These areas of critical medical help are not available in other states.  In fact, in almost all other states, riders who are injured in supersport crashes will be at the mercy of Medicare and have much more limited medical care for spinal injuries, brain injuries and the typical skin grafts and plastic surgery interventions that I see so often after a terrible motorcycle crash.
Getting the word out on motorcycle safety, via my blog and legal seminars and talking to reporters like Vishal is also a helpful start to preventing these catastrophic supersport accidents.
Here's the full article: Supersport motorcycle bikers face high fatality rate.
Related information:
Michigan No-Fault insurance for motorcyclists